Tam Slam!
Hike Mount Tam's Matt Davis Dipsea and Steep Ravine Trails to Stinson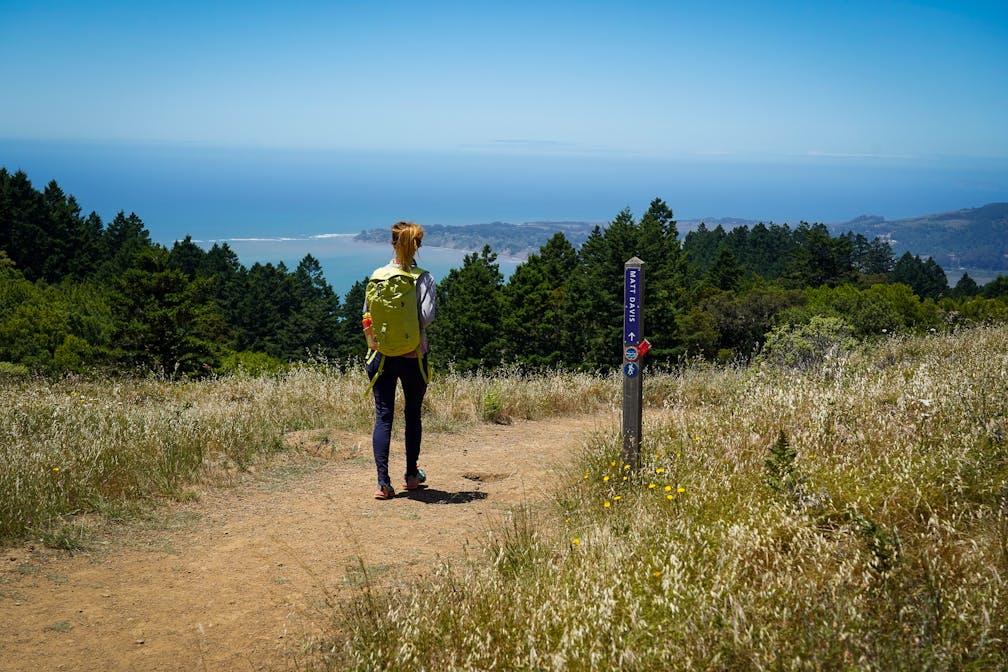 Welcome back Tam! Get reacquainted with Marin's lofty landmark in Mount Tamalpais State Park. This 8-mile (round-trip) hike is a pure classic, with redwoods, water-flows, and soaring views of the coastline. Oh yeah, and that ladder! The hike is popular: get an early (or later, if it's summer) start so you can get a parking spot at Pantoll.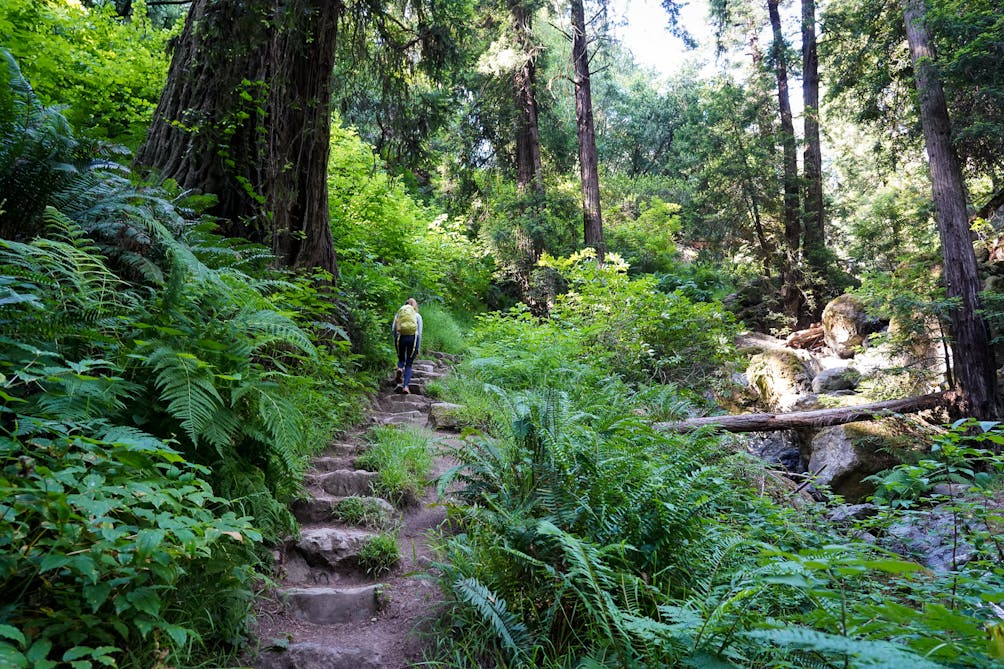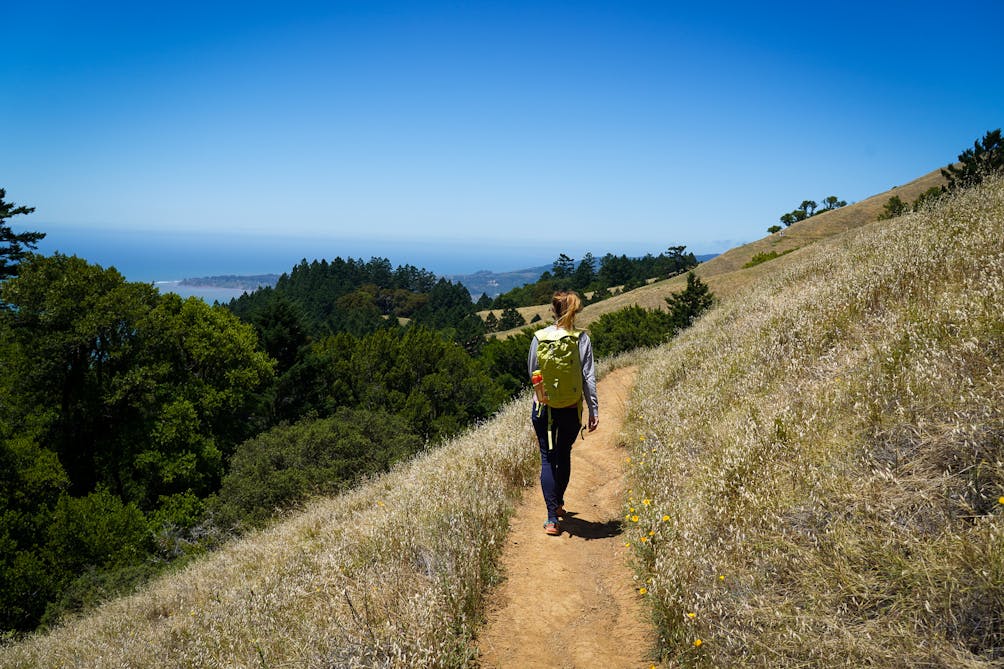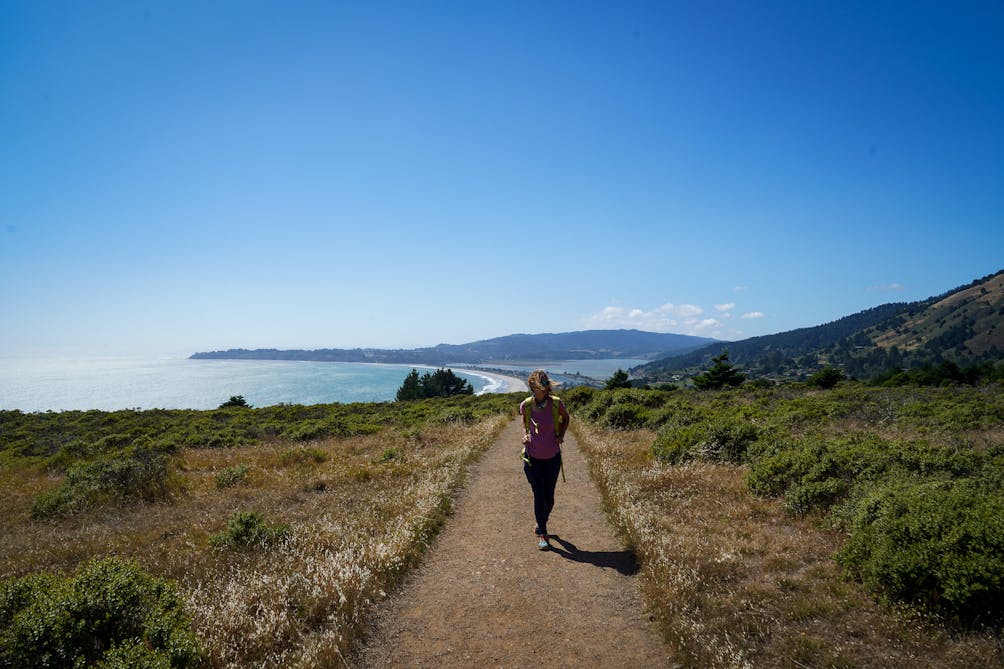 There are multiple easy ways to begin this hike but we recommend crossing the street from the Pantoll parking area and starting on the Matt Davis Trail, which slinks along the western flank of Mount Tam at 1,500 feet. The first mile or so is canopied by a forest and frilled with ferns. Then you break out to stunning panoramas of Stinson Beach, Bolinas, and even San Francisco.
The trail threads along the side of the mountain and dips back into the forest before you come out at Stinson Beach, a lively little town where you can currently find take-out food and drinks and some patio space for outdoor dining at the Sand Dollar Restaurant. There's also the beach! Vast, open, and sometimes quite windy, this is a great spot to stroll and take a breather.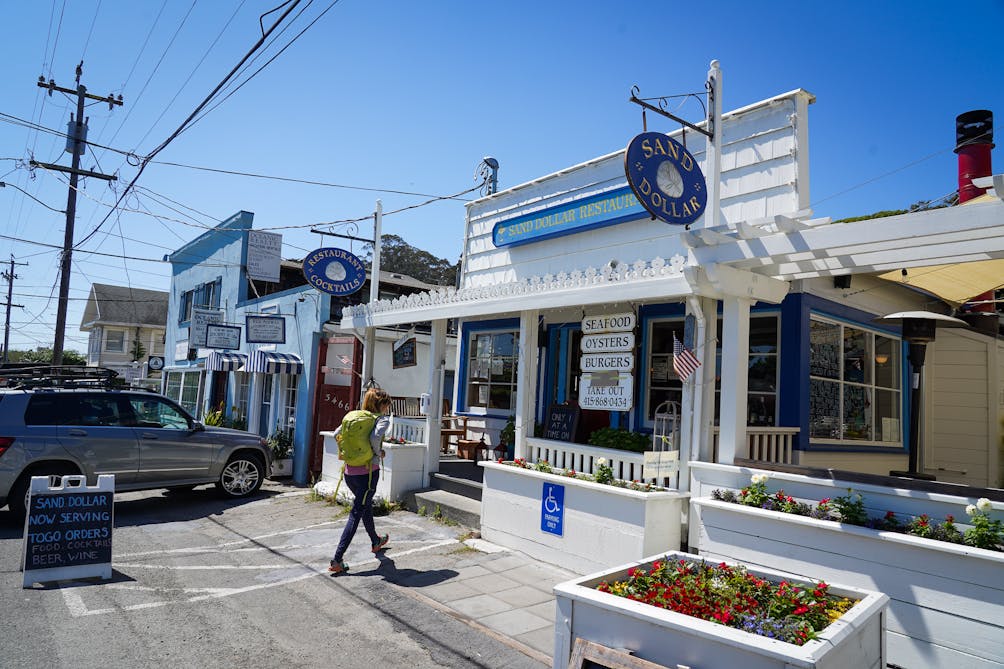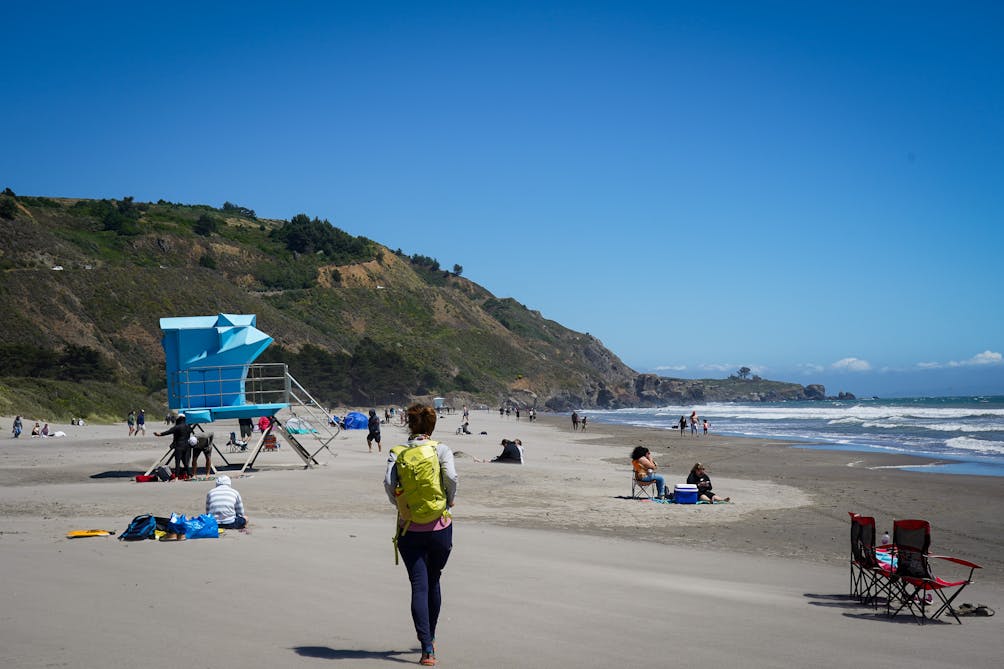 Now it's time to climb out of Stinson on the famous Dipsea Trail. It's a gradual climb to a short detour where you'll discover ... the "secret" tree-swing! Shhh ... don't tell anybody else. The trail to it is found after about a mile of hiking up to an intersection with a fire road. Turn right and within about 10 minutes you'll arrive at a swing hanging from a eucalyptus tree that is reminiscent of the tree in an iconic scene in the movie Forrest Gump. Take a swing, and wander up to some of the knolls for more wow-vistas, including out to the Farallones if it's a clear day.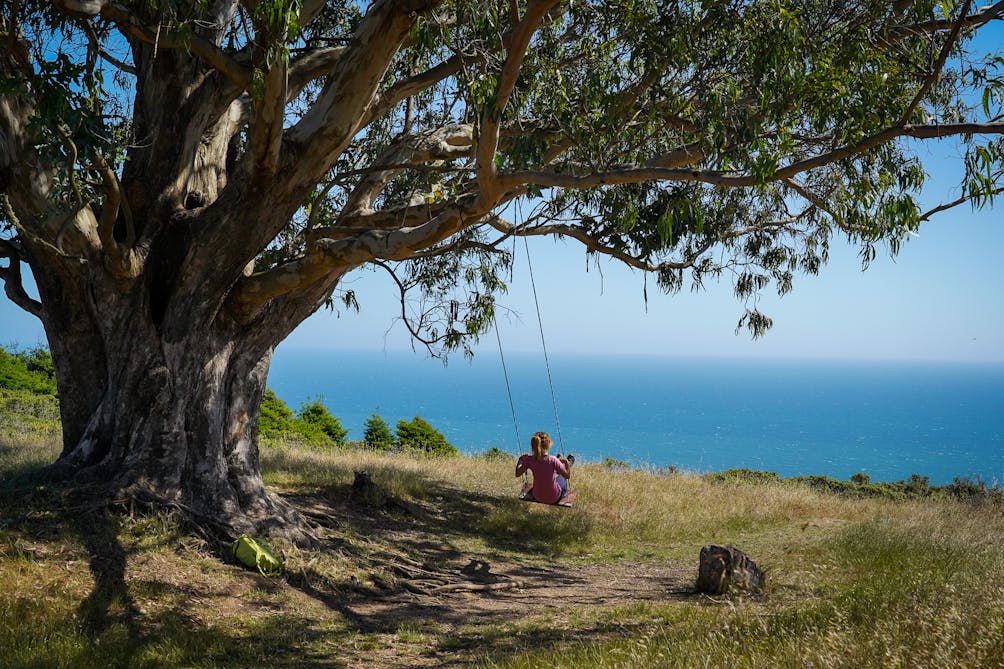 Time to climb! Return to the Dipsea Trail and keep going up before connecting with Steep Ravine Trail, which—you guessed it—keeps going up. The nice thing is that this section is under the canopy of redwoods and meanders beside Webb Creek nearly the entire way. The lushness within this section is lovely.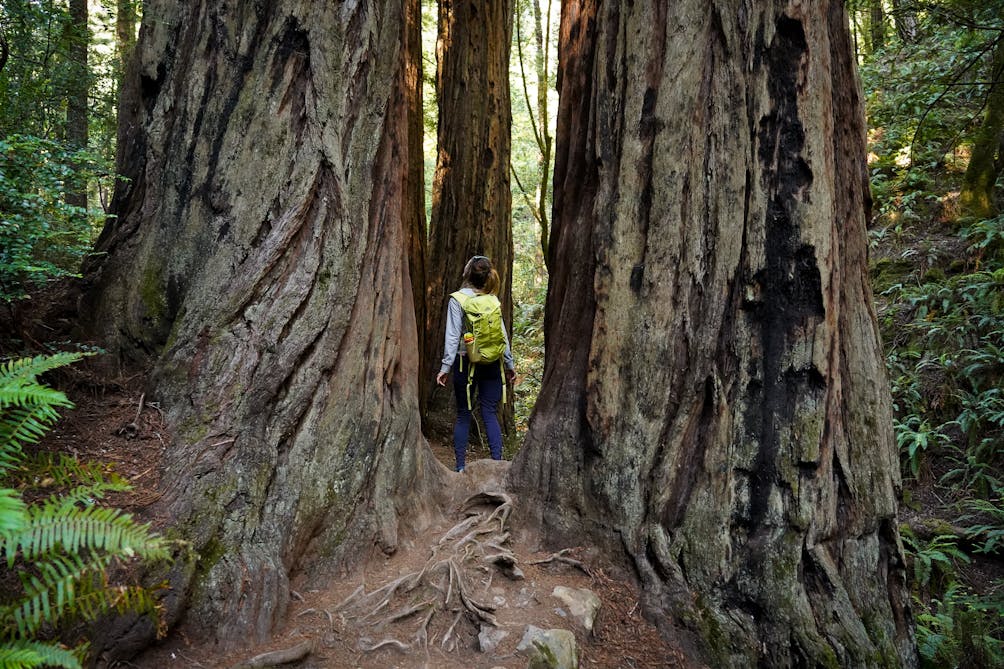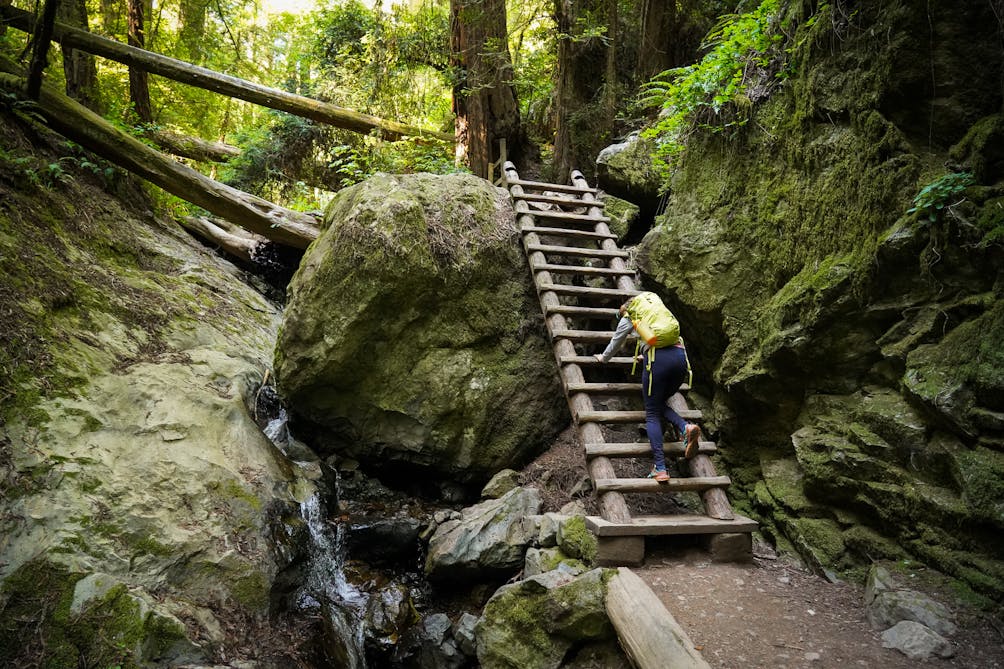 The grand finale comes before the final stretch ... get ready ... the famed 10-foot ladder on this trail is a photographer's delight ... and easy to climb. It's all uphill from there! (But you're so close to the finish.) Tamtastic!
Park at the Pantoll parking area off of Panoramic Hwy. (map). It's $8 to park. Cross the highway to pick up the Matt Davis Trail. Follow it down to Stinson Beach. Pick up the Dipsea Trail towards the southern end of Hwy. 1 in Stinson Beach. Follow it uphill for about 1 mile, and if you want to see the tree swing turn right at the fire road. Continue uphill and take the Steep Ravine Trail all the way to Pantoll. No dogs.
Bring the Outdoors to Your Inbox
Sign up for our weekly email and stay up to date on where to explore in California.
* No spam, that's a funky food!