Mammothly Epic Hike
Hike the Mammoth Crest Trail
You're going to need your hiking game-face for this adventure. Trekking in the Sierra high country at any time of year requires common sense and a check of the weather; doing it during shoulder season requires even more vigilance. But if the autumn weather's good in the next few weeks, and your stamina is great (this is a 14-mile round-tripper), the Mammoth Crest Trail loop is one of the premier hikes in the area. The trail lives up to its name from the get-go, rapidly climbing 1,400 feet from gorgeous Lake George. Within 2 miles of the trailhead you'll have open views across to the jagged Minarets, the Ritter Range, the Mammoth Lakes Basin, even Yosemite's high country. It's outstanding.
And the brilliant vistas just keep on coming. Hiking south along the crest above tree line, you'll get pocket views of Lake Mary and Lake George below. And you'll get as high as 11,190 feet. Then, like little emerald jewels dropped below harsh granite peaks, Deer Lakes comes into view. Turning around at Deer Lakes makes for an 11.5-mile (round-trip) hike. However, if you don't mind a little scrambling and off-trail route finding, go up and over the obvious saddle directly east of Middle Deer Lake. Follow the little boot-beaten trail, climbing a hillside to a rocky talus. It's a bit of an intimidating sight at first, but here's the key: The best route up is found to the far right on the approach (stay low and head to the right of the talus base until you see a small pathway that leads to the top of the talus).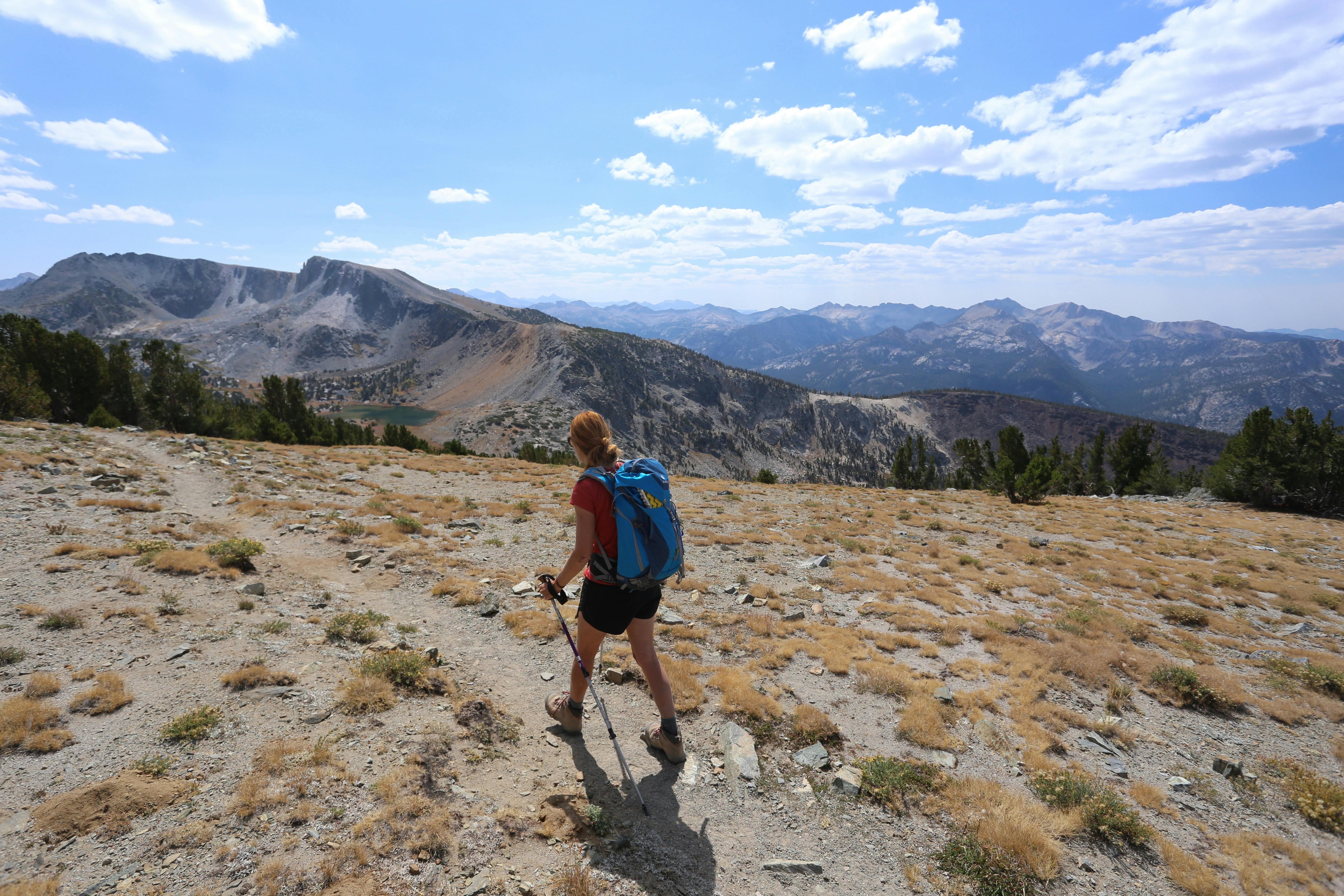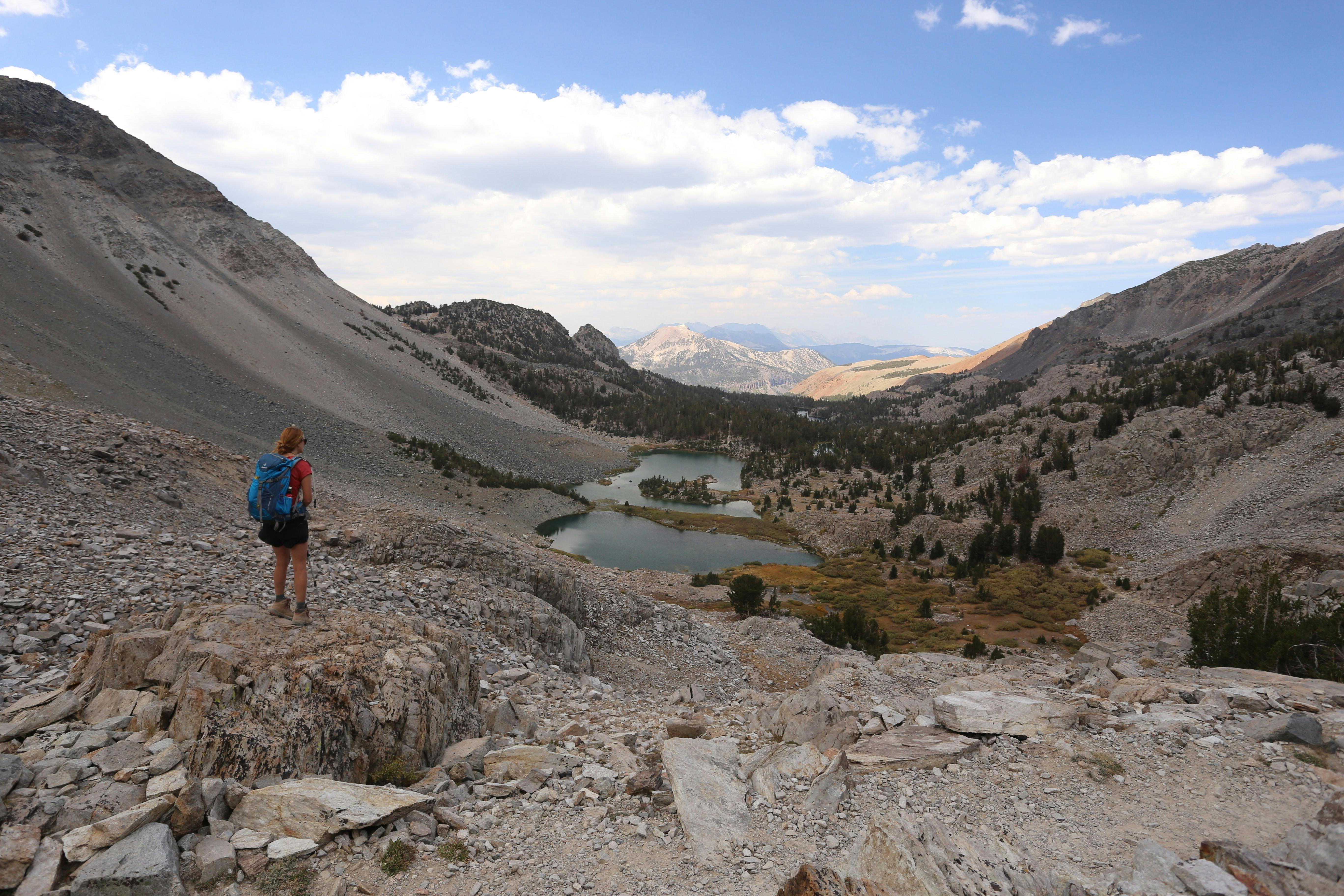 The route is a bit steep, but short in duration. Take your time and at the top you're greeted with a meadow and more peaks. Phew! No more climbing, just a bit of route finding—made much easier by the presence of Duck Lake in the near distance. That's your guiding oasis. If you lose the trail, just keep heading east. Within a mile you'll reach Duck Lake and the official hiking trail around it. Duck Lake is one of the largest natural bodies of water in the Eastern Sierra. High-five your hiking partner: The hardest part is behind you! Enjoy this scene (pictured). From Duck Pass you'll descend, enjoying more mountainous scenery. In a couple of miles you'll see a sign for Emerald Lake, where you'll take a left and begin that last leg of your hike, through forest. From Emerald Lake, follow the signs to Lake Barrett and Lake George. Mammoth bragging rights for you!
A map is essential for this 14-mile (round-trip) hike. Pick one up at any sporting goods store in Mammoth. The trailhead at Lake George is easy to miss; it's at the north end of the parking lot. Follow it up to Crystal Lake, but don't take the spur trail to Crystal Lake. Continue up the Mammoth Crest Trail. Start this hike early as it can take 6 to 9 hours. Bring snacks and plenty of water. Know the weather before you depart—this is not a safe hike in inclement weather. You can always turn around and return the way you came, including if you don't want to go over the talus at Deer Lakes. It's still a brilliant hike! Dog-friendly!
Bring the Outdoors to Your Inbox
Sign up for our weekly email and stay up to date on where to explore in California.
* No spam, that's a funky food!