All's Well That's Elwell
Hike to the Summit of Mount Elwell in the Lakes Basin, Sierra Nevada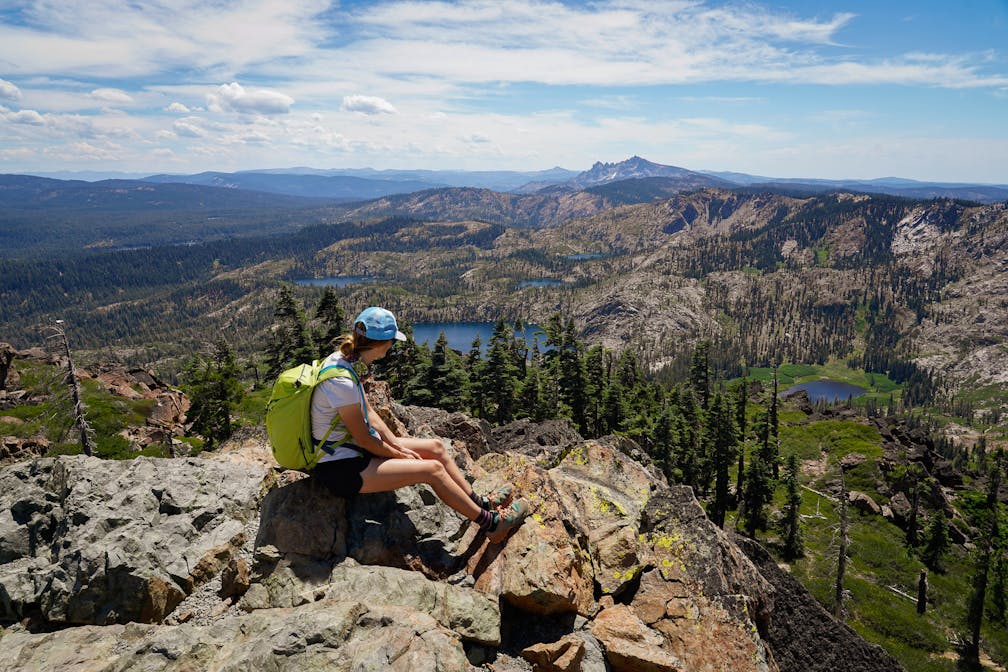 There's no denying that the summit of Mount Elwell offers one of the best views of the northern Sierra. What's up for debate is how you get there. Whatever hiking route you choose, you'll clock between 7 and 8 miles round-trip to the 7,818-foot peak. It's a tough hike.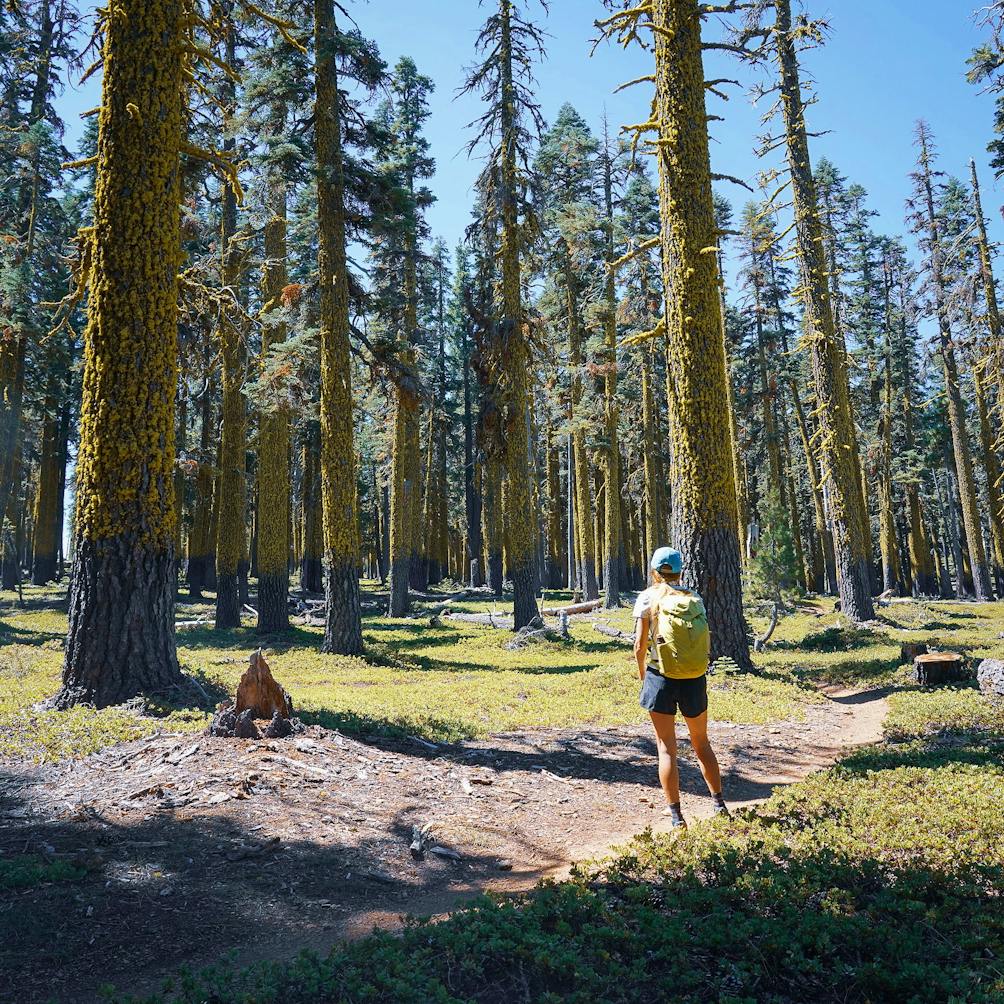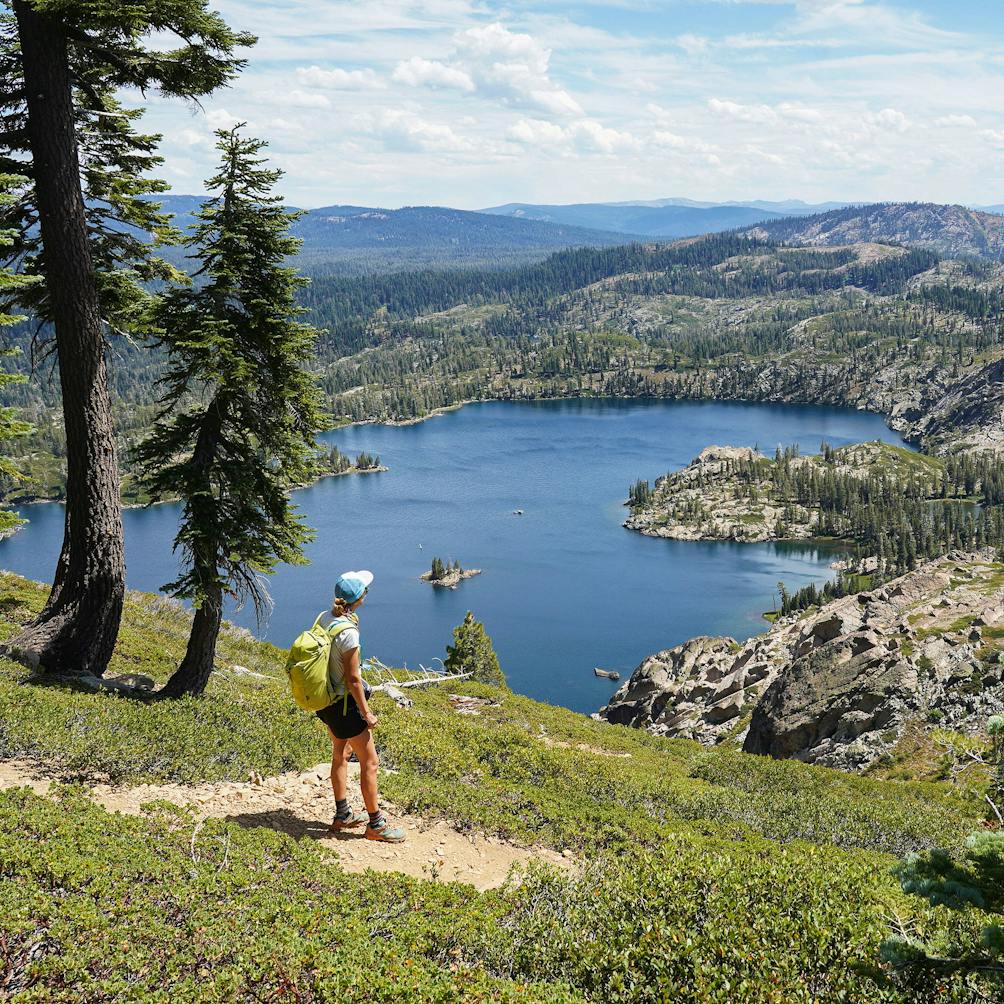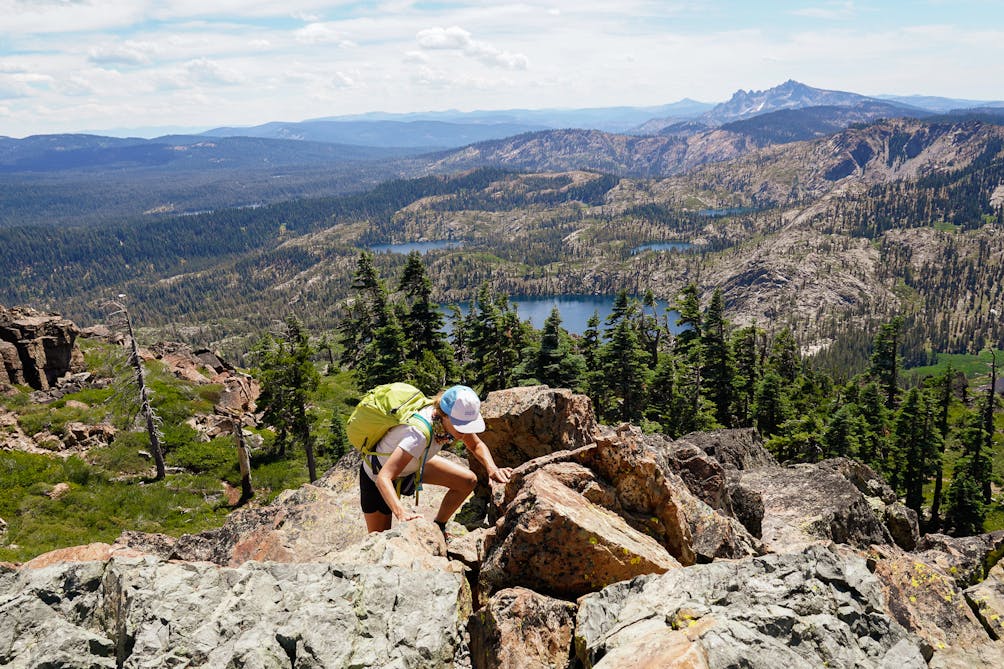 The shorter option, an out-and-back, has you starting at the Lakes Basin Campground. Enjoy the incentive scenery of Long Lake as you head up to Elwell. People who love loops and a hidden lake can take what we've nicknamed the "sugar pine way." This is a longer route, climbing nearly 2,000 feet through a sugar pine forest with uniform tree stands covered in bright green lichen. Halfway up you'll pass Maiden Lake, an oasis favored by those who like skinny dips (the Farmers' Almanac simply cannot forecast all the full moons!).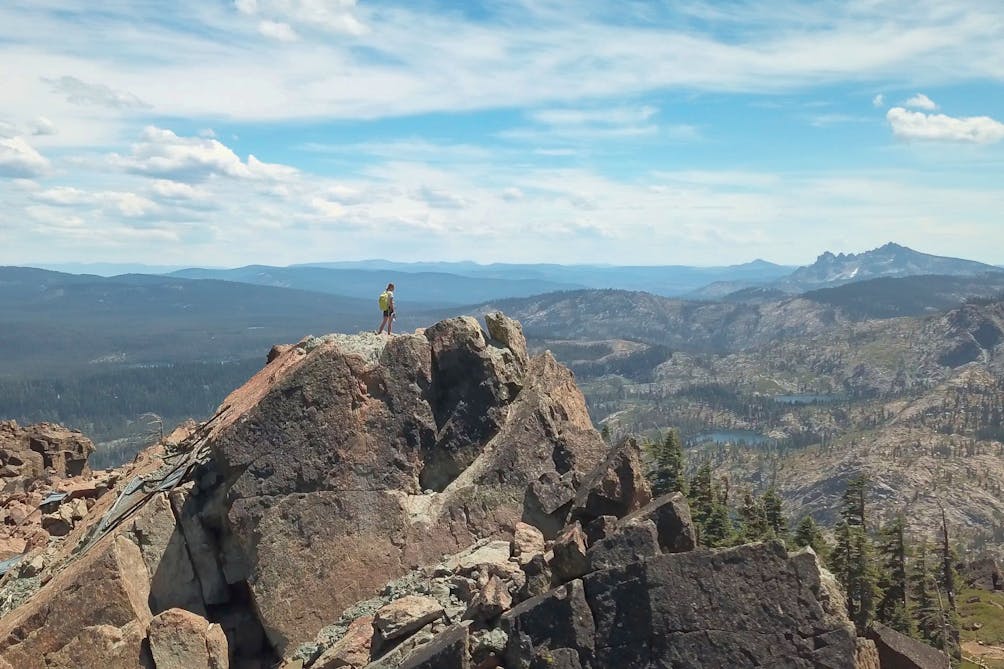 Either way you go, the final section is about a five-minute scramble up craggy boulders (tip: Cairns provide a route on the south side. Take your time and use caution). And the summit views? Cinematic. It's an eye-max of the northern Sierra landscape, including mountain peaks like Mount Shasta and Mount Lassen, the Sierra Buttes Fire Lookout, as well as Bear Lakes, Silver Lake, and Round Lake to the south, and Gold Lake and the Sierra Valley to the east. There's a scroll you can sign, and you'll see remnants of a former fire lookout.
LISTEN TO THE PODCAST: In the episode "Secret Sierra" Weekend Sherpa co-founders discuss their trip to the summit of Mt. Elwell and exploring the Lakes Basin.
CAMPING TIP: There's great lakeside camping nearby in the Lakes Basin. Goose Lake Campground is a nice one with only 14 sites. There's also Gold Lake, Snag Lake, Haven Lake, and others.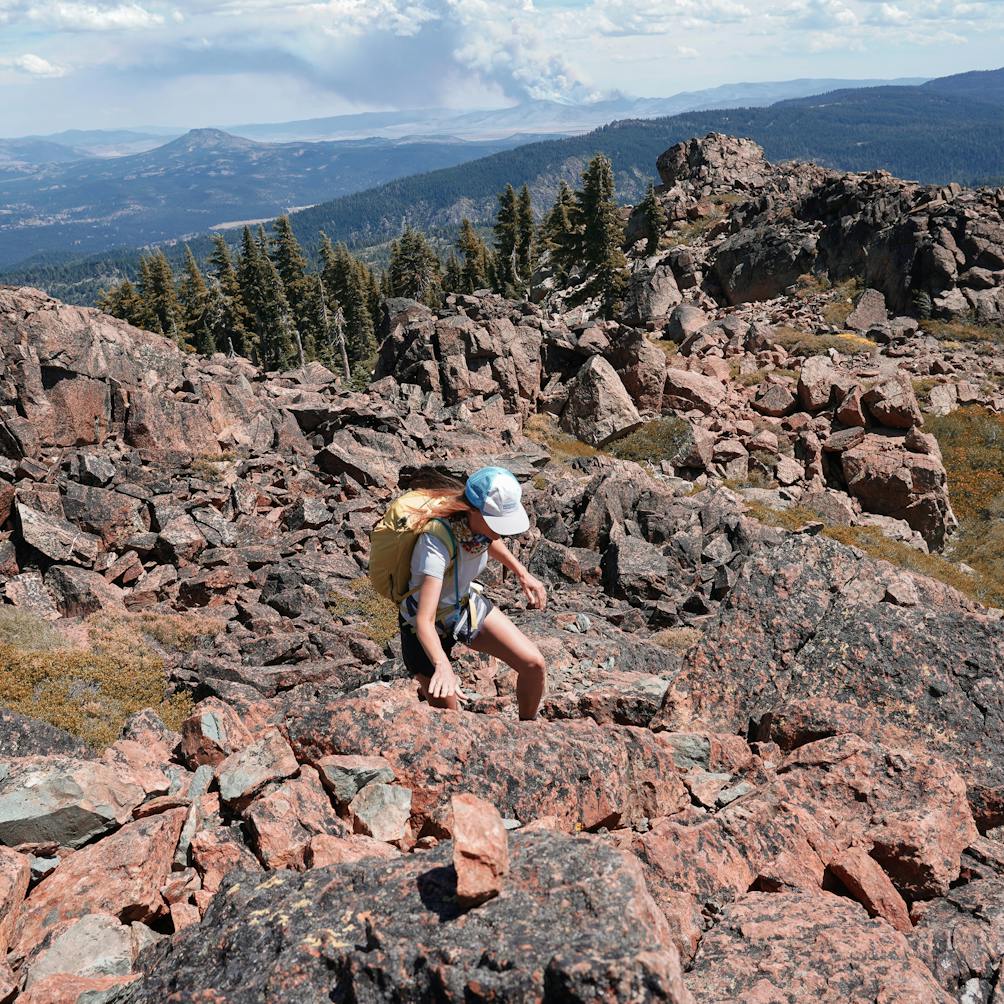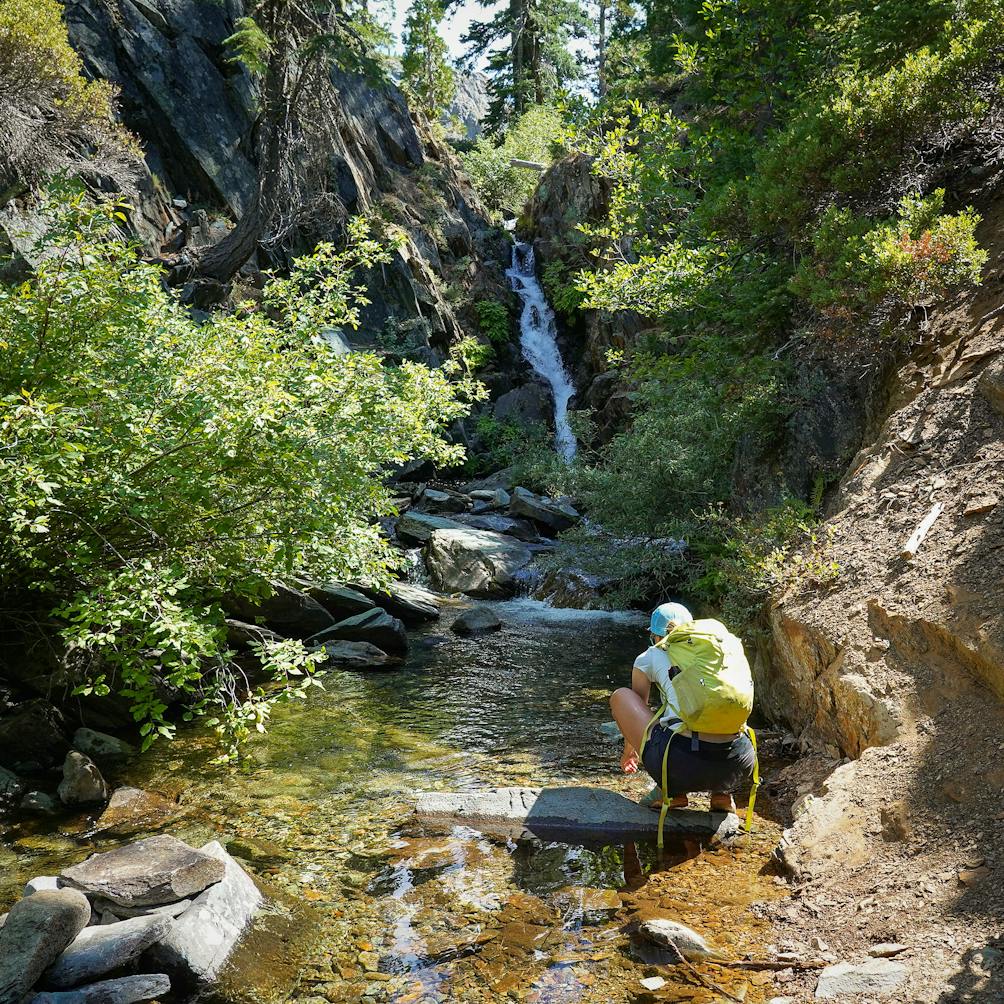 For the shorter out-and-back option, start at the trailhead at the end of the Lakes Basin Campground. You'll see two trailheads (Bear Lakes and Long Lake). Start on the Long Lake Trailhead. Hike up about 0.75 mile and turn right following the sign for the Long Lake Connector. This takes you to the Long Lake Trail, where you turn left and hike up to Mount Elwell following the signs. Return the way you came.
For the longer round-trip option: Start at the Smith Lake Trail near Gray Eagle Lodge. Hike up the Smith Lake Trail. Go left at the intersection with Smith Creek Trail. A short distance later bear left on Mount Elwell Trail. The trail ascends 3 miles to Mount Elwell. Descend on the Long Lake Trail, which takes you back to where you parked.
Bring the Outdoors to Your Inbox
Sign up for our weekly email and stay up to date on where to explore in California.
* No spam, that's a funky food!