Muirly Through the Woods
Muir Woods Hike Brunch at Mountain Home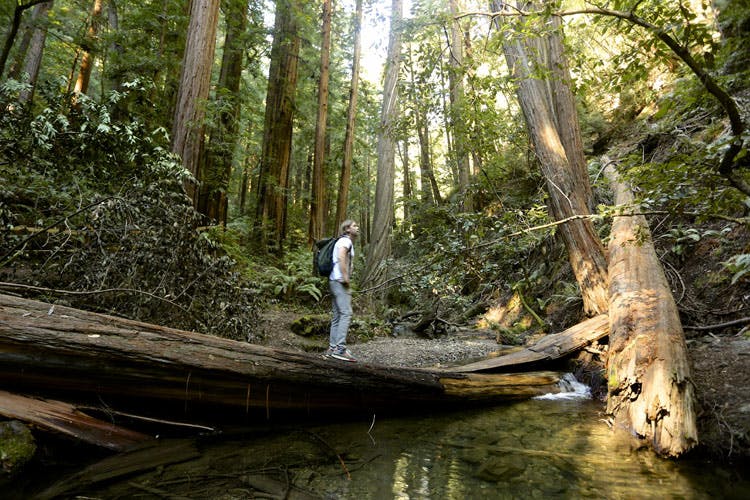 Eggs, waffles, BLTs, mimosas, what could be better? How about pairing your brunch with a walk through 600-year-old redwood trees. Skip the crowds at Muir Woods' main entrance and start up on Panoramic Highway by the Mountain Home Inn (your brunch spot). You'll hike high on the ridge paralleling the road for a few minutes before descending into the canyon, which is covered by ancient redwoods. Morning light pierces through the canopy, landing on the sword ferns, the scatter of bay laurels, and bigleaf maples. It's a steady drop down to Fern and Redwood Creeks. At the bottom you'll be near the entrance to Muir Woods. Keep heading south along the Fern Creek Trail to enter the park. Soon you'll reach famed Cathedral Grove, home to the biggest trees in Muir Woods. Walk all the way along Redwood Creek before veering off on Canopy View Trail and ascending back to your starting place. If the weather's good, grab an outdoor table at the Mountain Home Inn. If it's chilly, sit by the fire inside. Either way, the breakfast sandwich, filled with three kinds of cheeses, sautéed onions, eggs, potatoes, peppers, and avocado, makes a tasty meal. Mountain Home run!
The hike is 4 miles. Try to get an early start as parking along Panoramic Hwy. (map) fills up fast on weekends. Start on the Trestle Trail, across the street from the Mountain Home Inn and just north of the parking lot. Go 150 feet and turn left on Alice Eastwood Rd. Go 0.2 mile to Panoramic Trail. Follow this to the Canopy View Trail, where you turn right. Then turn right on Lost Trail (note the continuation of Canopy View Trail, which is what you'll come back up on). Follow this to the bottom of the canyon and turn left on the Fern Creek Trail to enter Muir Woods. Follow the main trail through the park and come back up on the Canopy View Trail, starting from the visitor center. No dogs.
Bring the Outdoors to Your Inbox
Sign up for our weekly email and stay up to date on where to explore in California.
* No spam, that's a funky food!