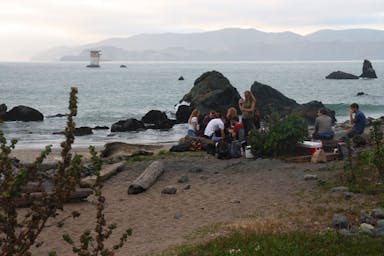 Long Weekend Cheat Sheet
Mile Oh Mile: Solitude in San Francisco? It's a Mile Rock away. This small and secluded cove tucked beneath wild and beautiful views of the Pacific Ocean, the Marin Headlands, and the Golden Gate Bridge is easy to reach if you don't mind lots of steps. (Plus read the latest on the labyrinth.)
Mile Oh Mile: Solitude in San Francisco? It's a Mile Rock away. This small and secluded cove tucked beneath wild and beautiful views of the Pacific Ocean, the Marin Headlands, and the Golden Gate Bridge is easy to reach if you don't mind lots of steps. (Plus read the latest on the labyrinth.)
Open Space, Now Open! Ahhh, that new open space smell! Saved from corporate development, Coyote Valley Open Space Preserve recently opened, and shines with new redwood bridges, picnic areas, and a terrific hiking and mountain biking trail with sweeping ridgetop views.
Outstanding in the Vineyards: Remember when wine tasting at all the good spots was free or only a few bucks? Anderson Valley never forgot, and it's got outstanding wines and an amazing state park.
Shake Your Trail Feathers: Egrets mingling in a maze of marshes, unobstructed views of Mount Burdell to the north and Mount Diablo to the east. Stroll the new 2.7-mile (one-way) section of the Bay Trail and bring binoculars—this is a birding haven.
Buzzworthy: What buzzes and can give you a buzz? Heidrun Meadery in Point Reyes Station. They're masters of "honey wine" (aka mead) and beekeeping!