Meat & Greet
AgLocal Premium Meat Delivery Promo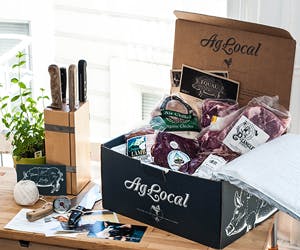 Tired of the same old meat market? It's time to make an upgrade! San Francisco-based AgLocal delivers the very best grass-fed, pasture-raised meats directly to you. It's like a care package of goodness: beef, chicken, pork, and more. AgLocal partners directly with and buys only from local family-owned farms committed to a transparent food system and responsibly raised meats. In fact, AgLocal visits and audits every farm, providing complete profiles so you can trust where your meat is coming from. And pasture-raised meat tastes wayyy better (and is healthier!) than the stuff you get at the grocery store. Taste for yourself: Sign up now for AgLocal with Promo Code WEEKEND20 and you'll save $20 on your first shipment. Choose the once-a-month subscription (which you can pause or cancel anytime) or opt for AgLocal's NEW "By the Cut"—where you choose the farm, the cut, and the amount! Your shipment includes more than just the great meats—you'll also get recipes, as well as farm and animal sourcing info. Sign up for your AgLocal shipment today.
SAVE $20: Get a $20 discount with Promo Code WEEKEND20 when you give AgLocal a try (expires March 31, 2015). There are two options: a monthly subscription (which you can change, pause, or cancel at any time) or By the Cut, where you choose the farm, the cut, and the amount!
Bring the Outdoors to Your Inbox
Sign up for our weekly email and stay up to date on where to explore in California.
* No spam, that's a funky food!