Unexpected Hiking Vacation
Discover Beautiful Hikes in San Ramon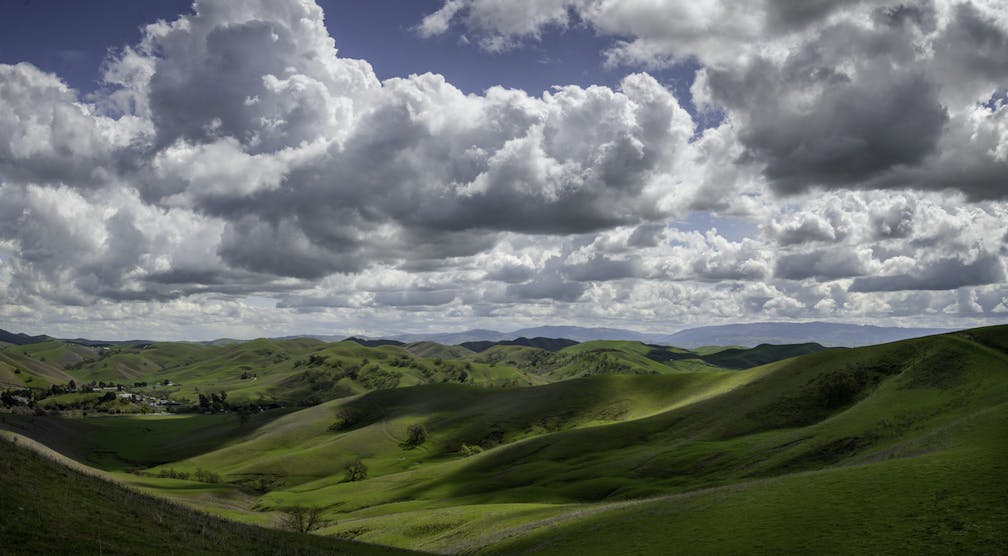 Ready for a local hiking vacation—one that's unexpected, hassle-free, and comes with bonuses like spas and delicious nearby dining? Gather your friends or family for a fun getaway in San Ramon. Its beautiful open space includes over 40 trails to discover. Here are a few to fall for.
Viva Las Trampas

Las Trampas Wilderness Regional Preserve is a hiker's nirvana. Its vast and rugged wilderness comprises 5,778 acres, so it's easy to feel whisked away to a sanctuary of the wilds, even as the urban hustle and bustle isn't that far away. (*You'll need to bring lots of water for yourself; it's not currently available there.)
Take your pick of plentiful hikes, including a challenging 7-mile loop along the park's western ridge combining Rock Ridge View Trail, Sycamore Trail, Devil's Hole Trail, and Elderberry Trail. The panorama on this hike is absolutely spectacular, including Mount Diablo, the San Ramon Valley, Marin's Mount Tam, San Francisco, and the bay's iconic bridges.
For something more easygoing, try the Bollinger Creek Loop, a gentle 1.8-mile trail where hikers can often find some solitude.
Post-Hike Pleasures: Replenish at San Ramon's City Center Bishop Ranch. This East Bay landmark with a public square is also home to a variety of excellent dining options, from C Casa's innovative Mexican cuisine to Fieldwork Brewing Company's refreshing craft beers.
Ranch Rambler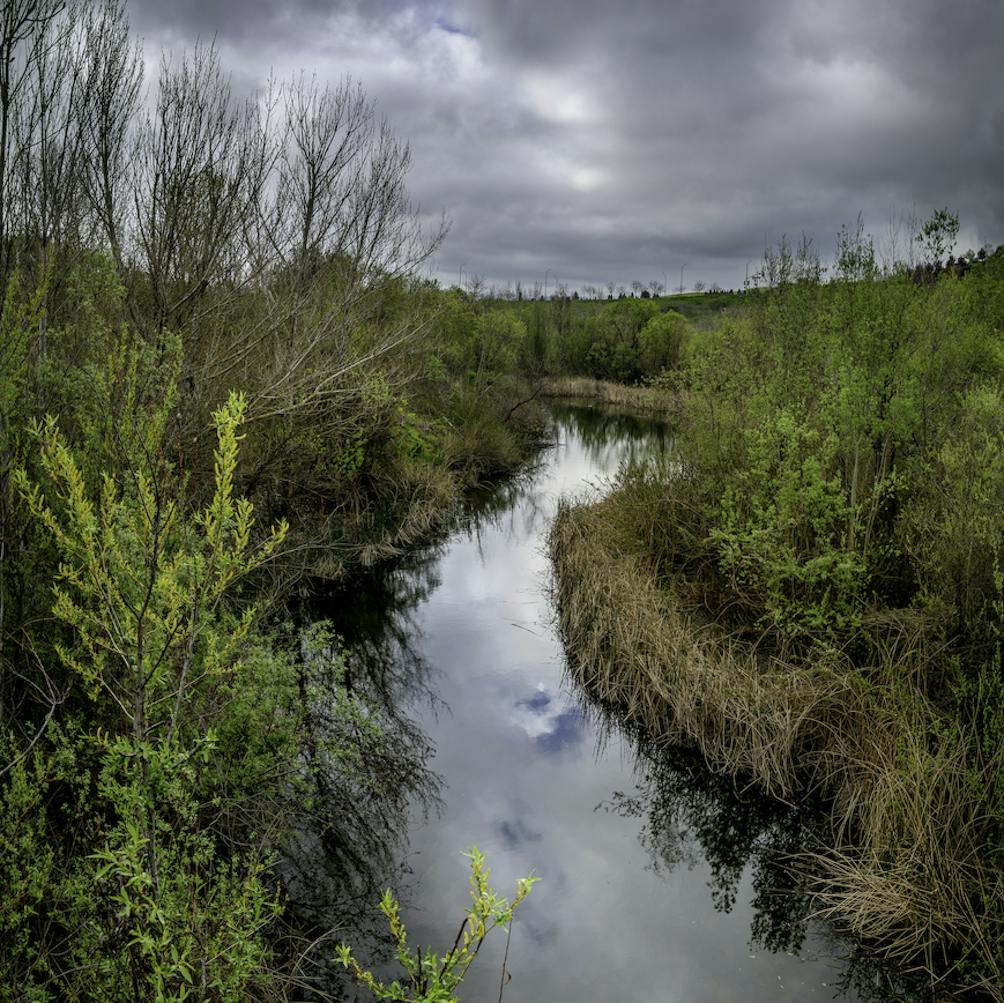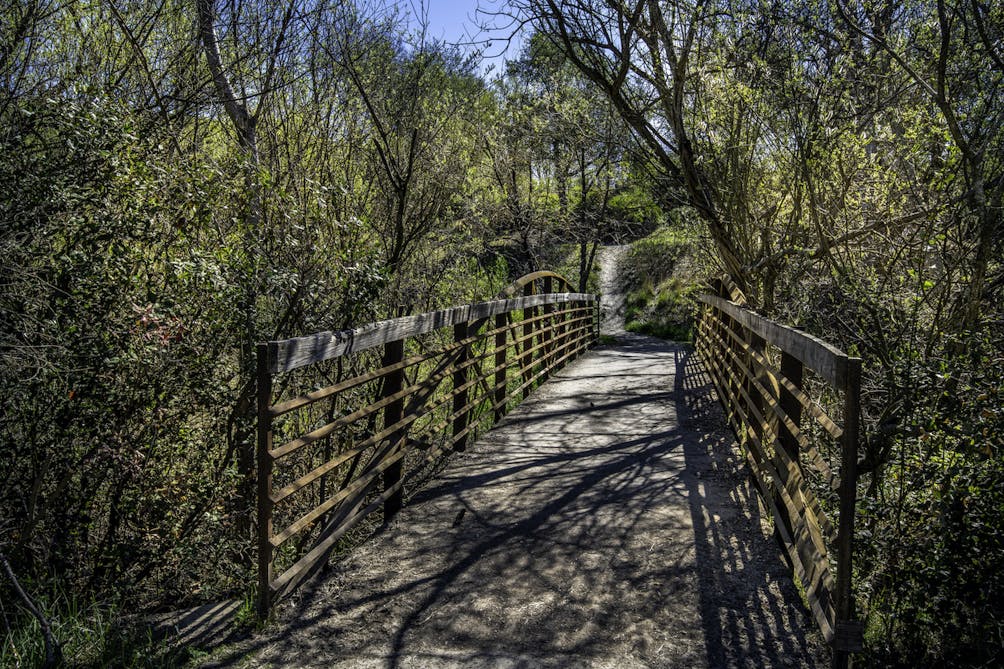 Hike a 5-mile loop at Bishop Ranch Open Space Preserve near San Ramon. This moderately challenging paved route is dog friendly and comes with spectacular views of the San Ramon Valley. It's also a good morning workout for those who would rather trade the StairMaster for a solid uphill climb. Be on the lookout for other frequent visitors: cows, turkeys, and a variety of birds.
For those seeking a car-free paved trail with no climbs, the multi-use Iron Horse Trail is flat and ADA accessible. There are several entry points to the trail from San Ramon, and Mount Diablo features prominently in the setting. This is a great biking trail, too.
Post-Hike Pleasures: Spa it up! San Ramon has plenty of spas to choose from, including at hotels. Whether you're looking for a sports massage, insist on all organic oils, or love a hot-stone couples treatment, San Ramon has classic, ancient, and modern therapies.
Hidden Park Hikes
The prescription for some relaxation? ParkRx in San Ramon! There are 58 parks here (!) and you can walk or hike to some of them.
Easy does it on the Monarch Ridge Trail. This gentle walk begins at the intersection of North Monarch Road and Feathermint Drive. Open space abounds as you enjoy scenery of the surrounding hills. Combine it with the Star Jasmine Trail and you'll end up at Hidden Crest Park, a beautiful spot with a sprawling lawn for lounging or picnicking. There's also a kid's playground.
You can also try the 5-mile Monarch Loop Trail, which starts on Japonica Way. Rolling hills are prominent as you go along and eventually reach Monarch Park. Located in the San Ramon hills, the views are spectacular here and the grass beckons a picnic or lounge session. There's also a small playground.
Post-Hike Pleasures: Keep the mellow theme going by enjoying some time by the pool, or the fire pit, at one of San Ramon's hotels.
Bring the Outdoors to Your Inbox
Sign up for our weekly email and stay up to date on where to explore in California.
* No spam, that's a funky food!