Add A Little Icehouse
Hike a section of Icehouse Canyon in the San Gabriel Mountains
Escape the summer sizzle, bathe in the canyon streams, and explore under tall wooded forests in one of the most magical forested canyons in all of SoCal. Head to the Icehouse. But keep it short! Icehouse Canyon in the San Gabriel Mountains offers "choose your own adventure" hikes of varying lengths. The canyon itself is mostly shaded, and the trailhead sits at 5,000 feet, making for a cooler summer outing if you keep your exploration to about 2 miles (round-trip).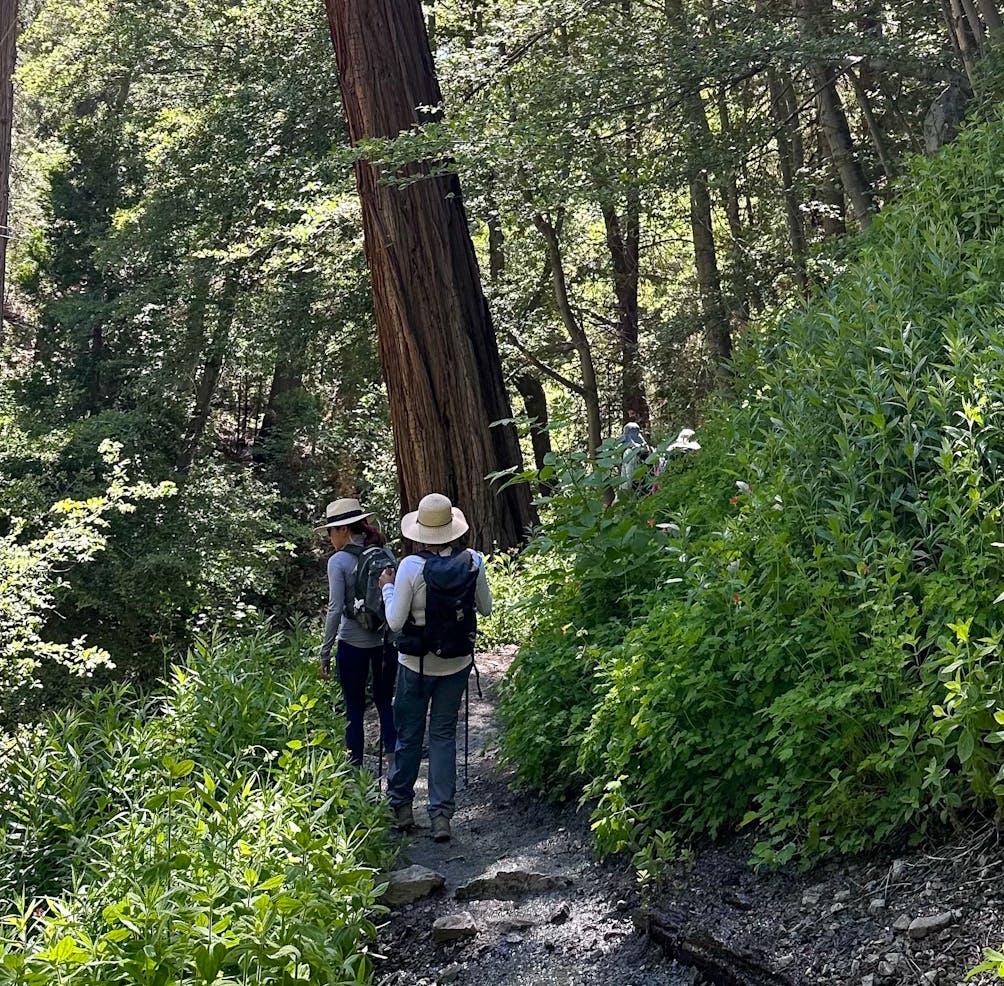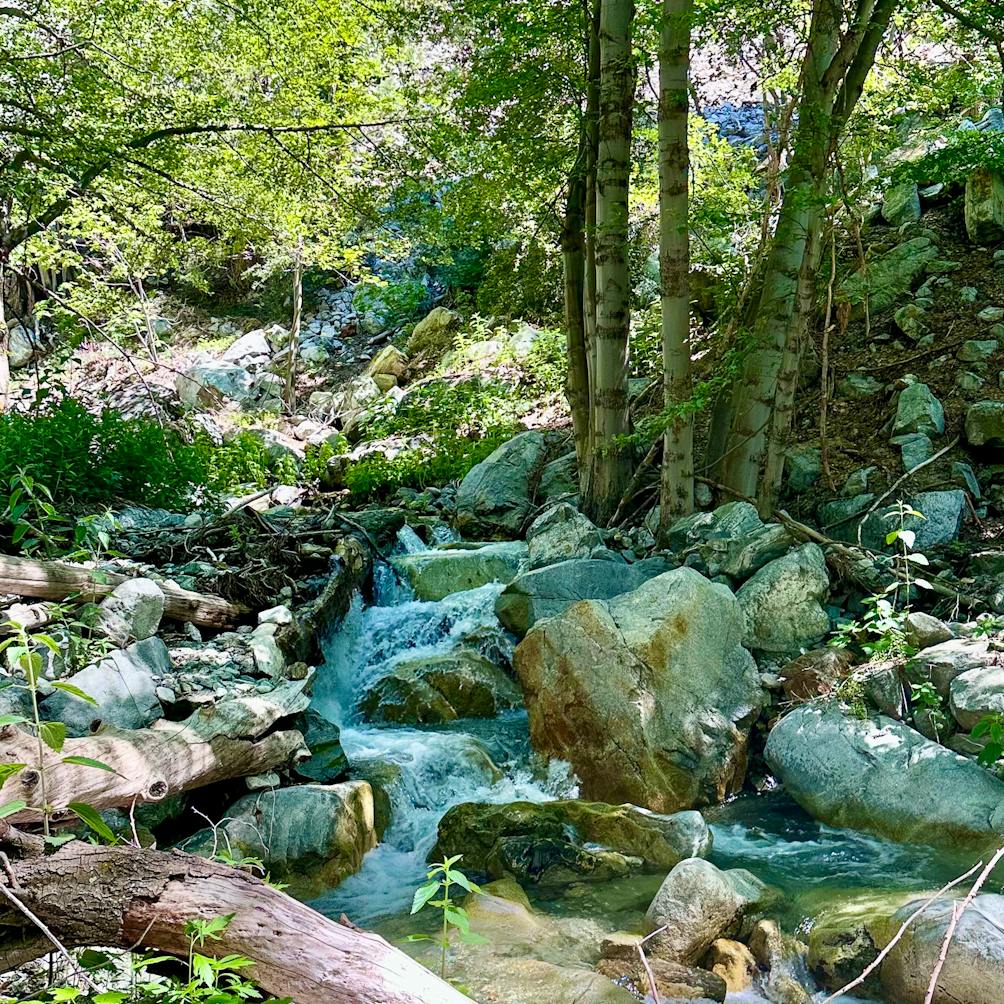 With its lush canopy of cedars, pines, oaks, and sycamores, and early-on streams, including a quaint little spot known as "Columbine Springs," Icehouse Canyon makes you feel transported to the Pacific Northwest. But this is pure SoCal outdoors! The canyon always looks beautiful, but right now it's especially majestic because of this past winter season. Streams start right from the trailhead, where creek-beds are almost always dry.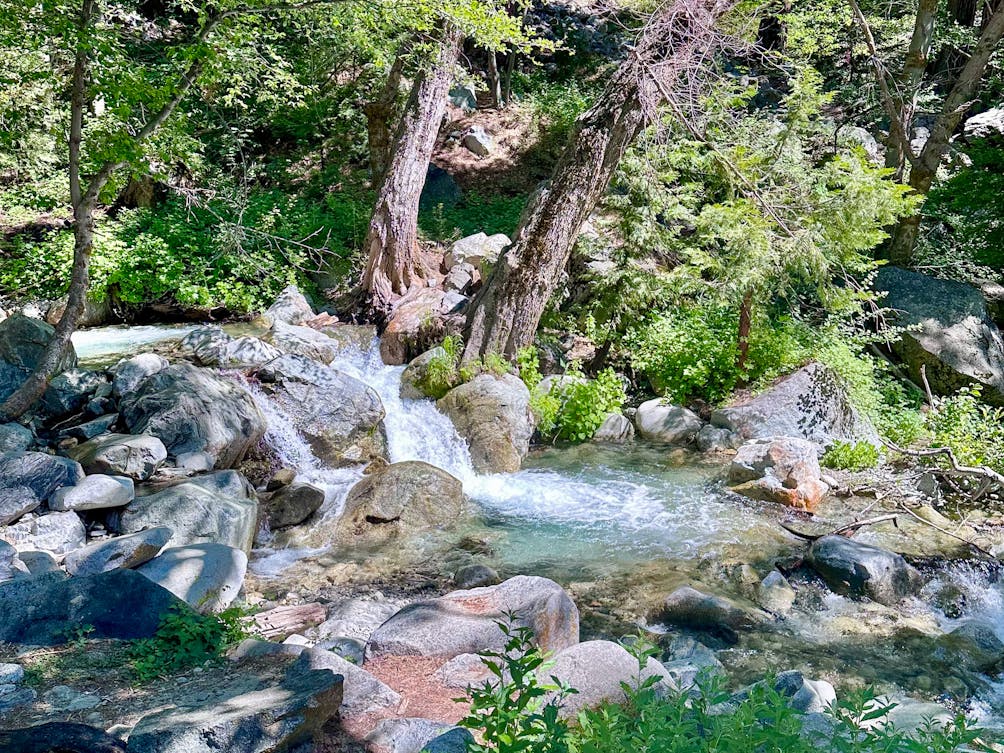 Enjoy an easygoing exploration by hiking in fifteen to thirty minutes (about a mile) to observe the vast forest, old recreation cabins, and canyon streams. Take a dip or get wet and refreshed at one of the oases. You can also go all the way to a backcountry camp, such as Cedar Glen camp (4.9 miles, round-trip); but on super hot days it's best to keep the adventure shorter.
TIP: If you really want to go for some extra trek credit, hike all the way to Icehouse Saddle, 7.7 miles (round-trip). Note: This is a hard hike, and there are no nearby streams at the saddle, so go early and bring plenty of water, and avoid mid-day heat. The saddle itself is still in the treeline and has some nice views of the western San Gabriel mountains. It's a popular spot for hikers to recharge before going beyond to explore one of the numerous peaks in the area: Cucamonga, 11.1 miles (round-trip); Ontario, 12.1 miles (round-trip); and the Three Ts (Timber, Telegraph, and Thunder Mountain, 14.7 miles (round-trip, and 4,986 feet gain). SUMMER NOTE: Remember, you're at Icehouse Canyon to keep your summer cool … the epic peak hikes are best left for when the weather itself is cool. Gives you a reason to look forward to a different season!
Icehouse Canyon Trailhead  Dog-friendly!
Note: A free wilderness permit is required to hike the trail past the Cucamonga Wilderness boundary. They can be obtained at a brown box at the trailhead (Icehouse Canyon Rd. Parking Lot) or at the Mt. Baldy Visitor Center (open weekends only) a quarter-mile away.
Story and photos by Justin Rimon, founder of Just Trek; @just.trek
Bring the Outdoors to Your Inbox
Sign up for our weekly email and stay up to date on where to explore in California.
* No spam, that's a funky food!