Viejas Valor
Hike to the summit of Viejas Mountain near Alpine in San Diego County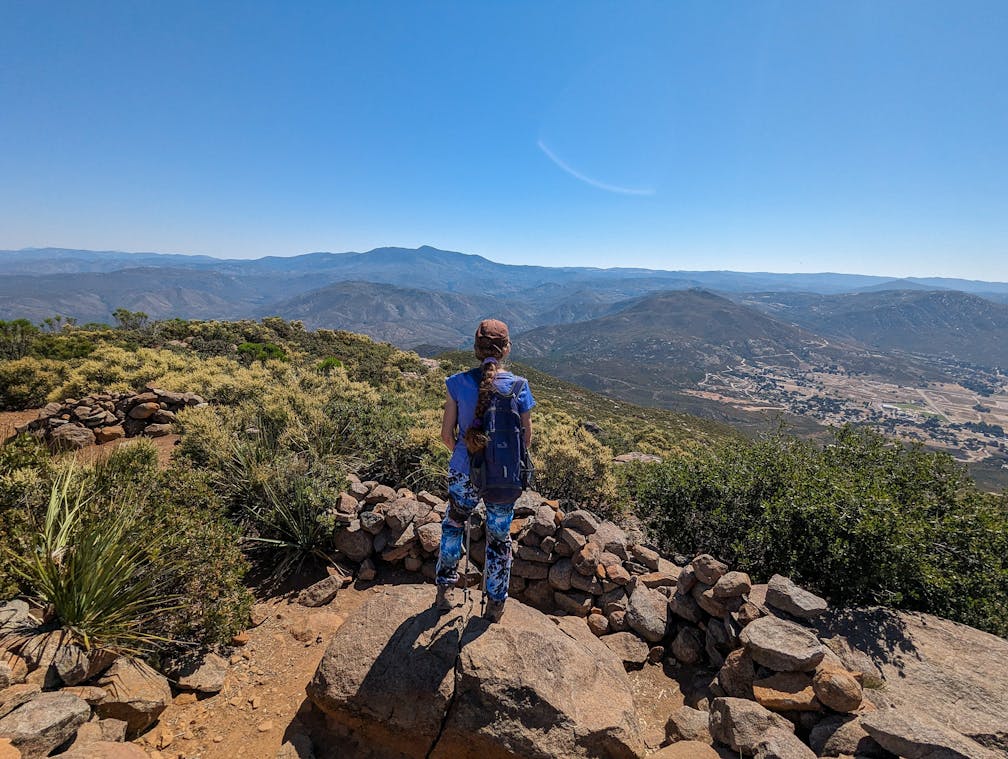 Pining for something short, sweet, and steep? Head to Viejas Mountain, just 3 miles north of Alpine in the Cleveland National Forest, for a 3.2-mile out-and-back that gains nearly 1,500 feet in elevation and rewards with the sweetest of vistas.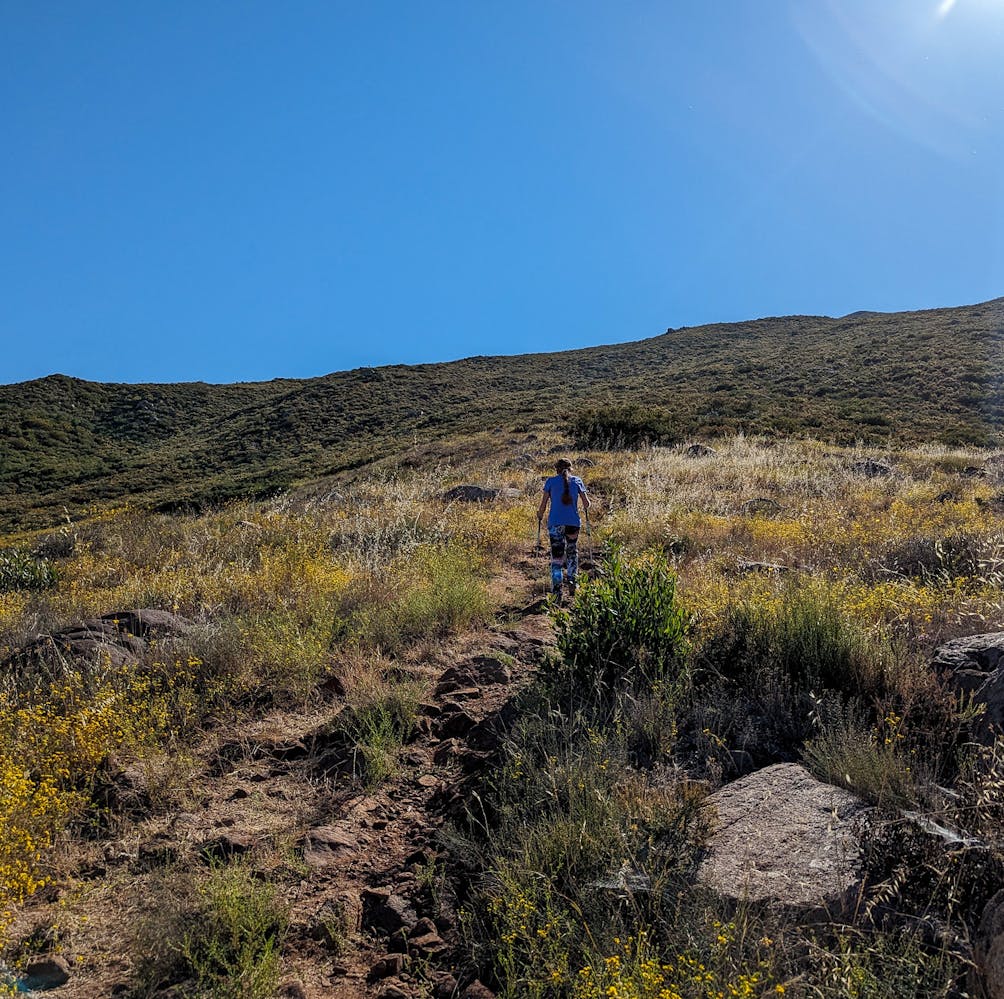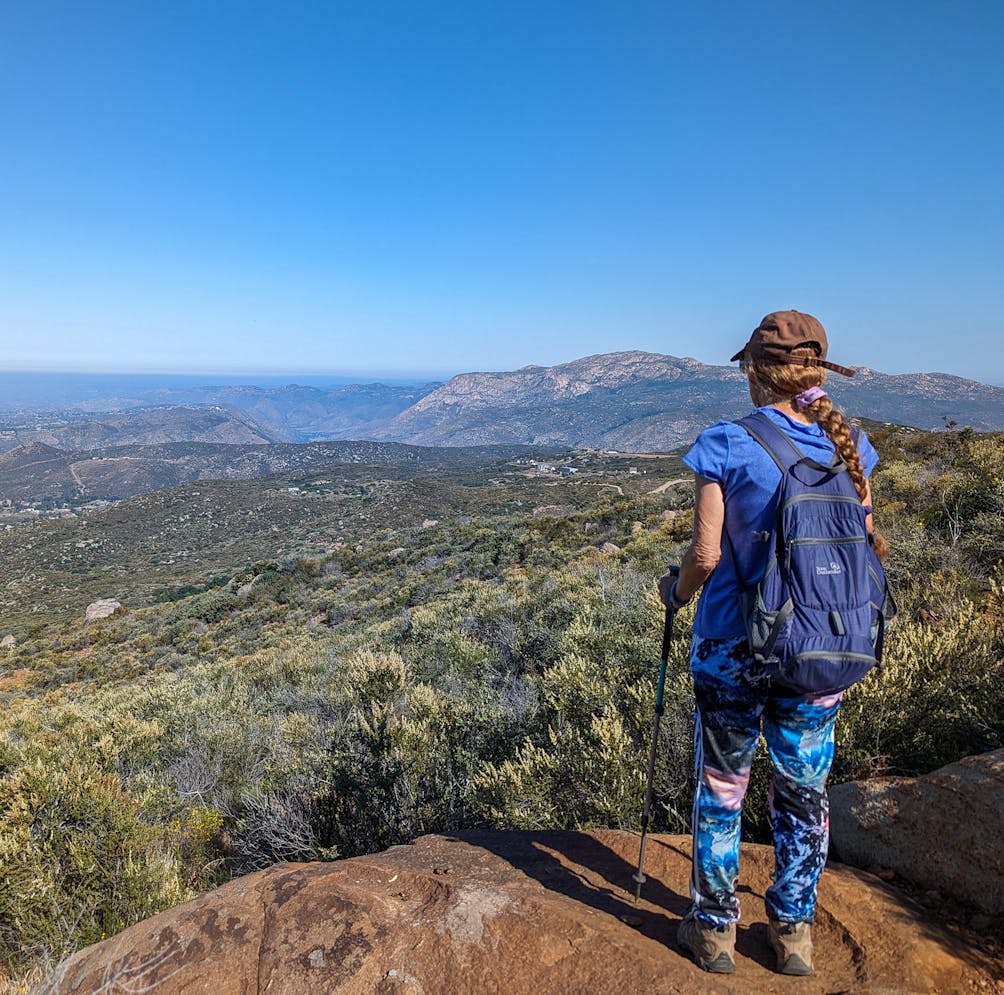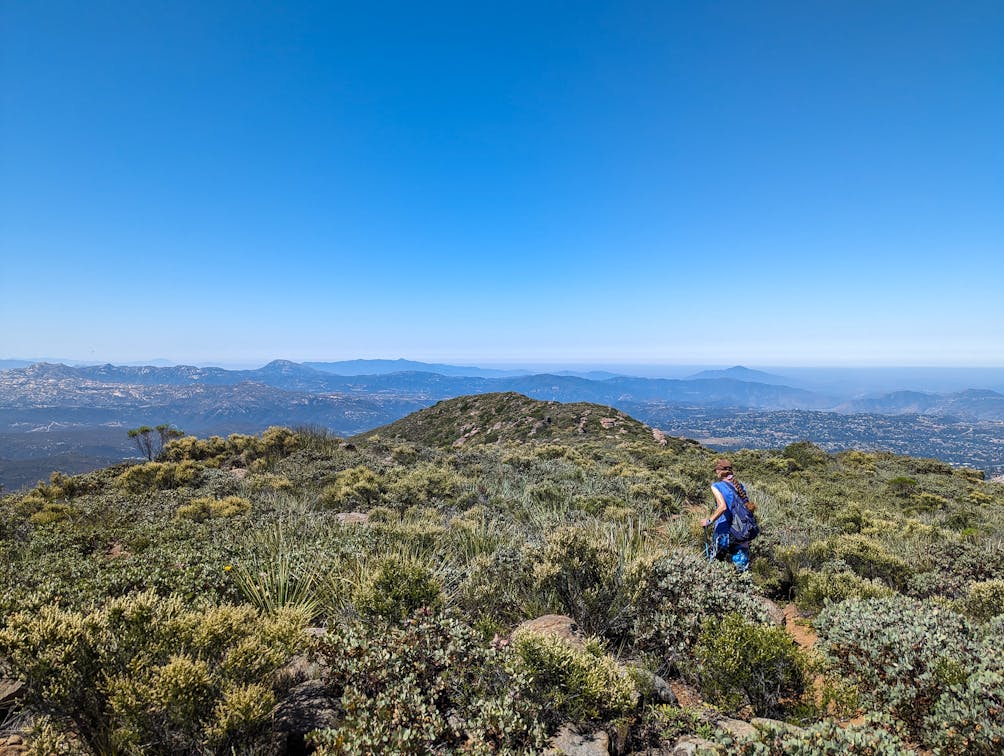 At 4,189 feet, the Viejas summit sits prominently above the trailhead, a narrow path that starts on the right side of Anderson Road shortly after it becomes unpaved (find plenty of parking on the shoulder of this wide dirt road). Start early or late in the day to avoid peak sun and heat, as very little shade is available (and on really hot days, we recommend you avoid it altogether). As you begin your gut-busting ascent (you're gaining nearly 1,000 feet per mile after all!), views to the west are already outstanding, stretching over Alpine and other towns along the I-8 all the way to Mission Trails Regional Park.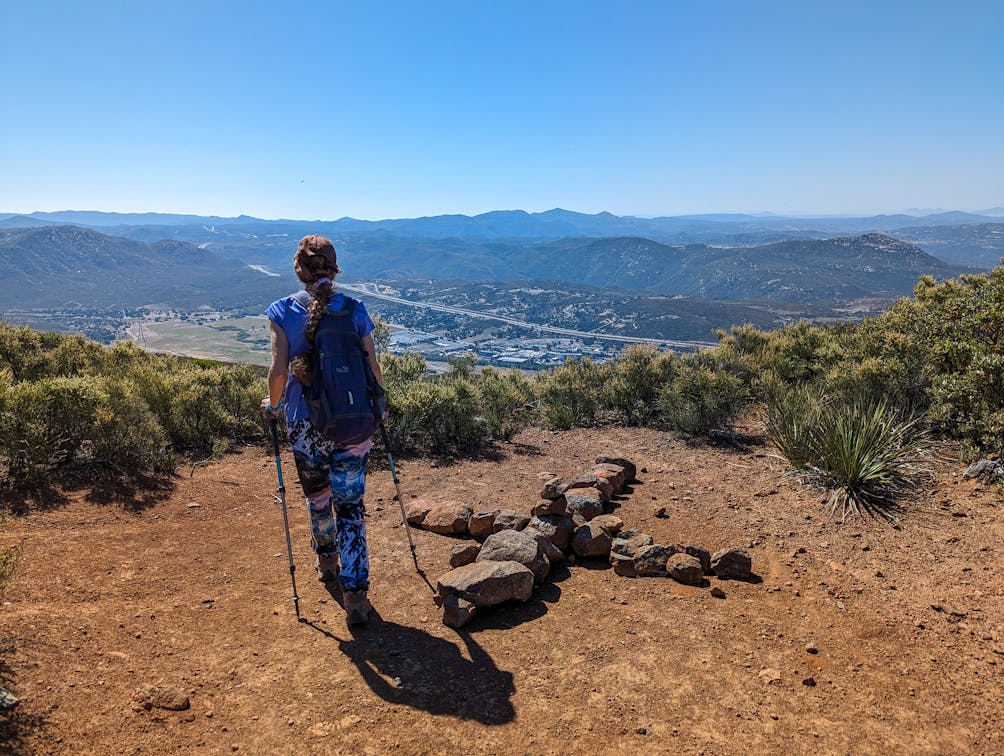 The trail is actually quite technical and not well-maintained despite the foot traffic. Expect a rocky, slippery climb that is often overgrown with resident chaparral and may have you sliding on your butt on the descent—that is, if you don't bring poles. On the way up, it's grueling, but the ever evolving views are certainly worth it. At the 1.3-mile mark, you finally reach the ridge, marked by a cross made out of rocks by previous hikers. Here you can peek to the east and see the Viejas Casino grounds; a trail to the right leads you to more views, but this isn't the true summit.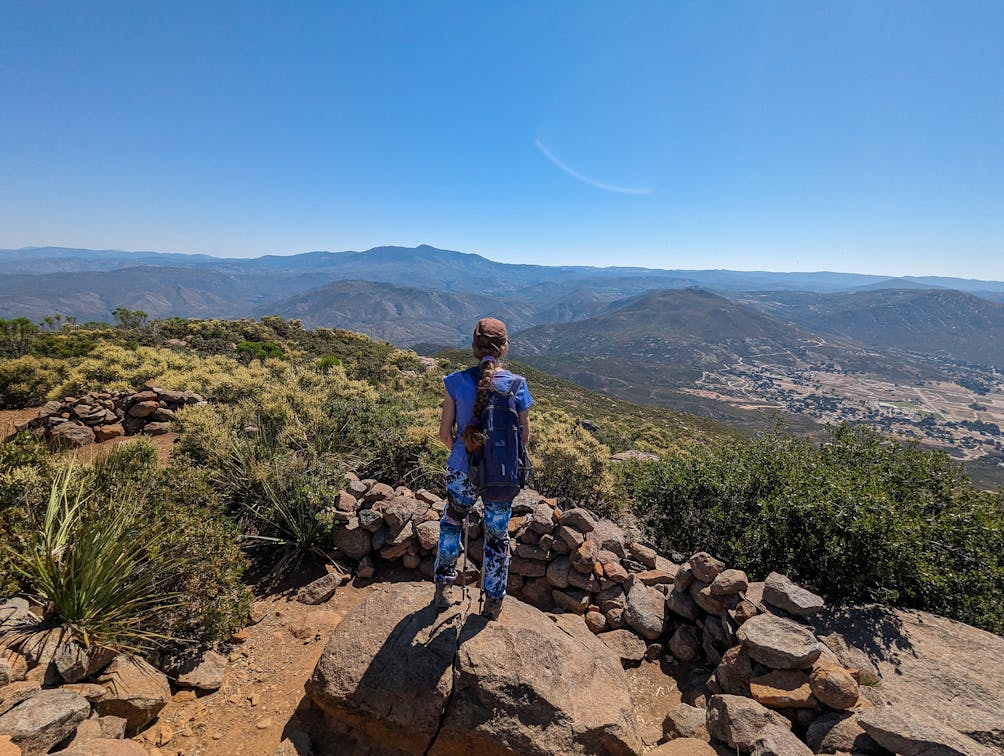 Head left for another quarter mile to reach the summit, marked by a geological survey marker, a couple of logbooks, and rock walls serving as wind barriers (and it does get windy!). Most importantly, you've got 360-degree vistas that are nothing short of stunning. Panoramas stretch west to the Pacific Ocean, south to Mexico, and north to the San Gabriels and San Bernardinos. Close by, you can catch Cuyamaca Peak to the northeast, San Miguel mountain to the south, and the distinctive El Capitan (El Cajon Mountain) to the west. It's hard to leave these views, but when you do, remember to watch your footing on the steep descent.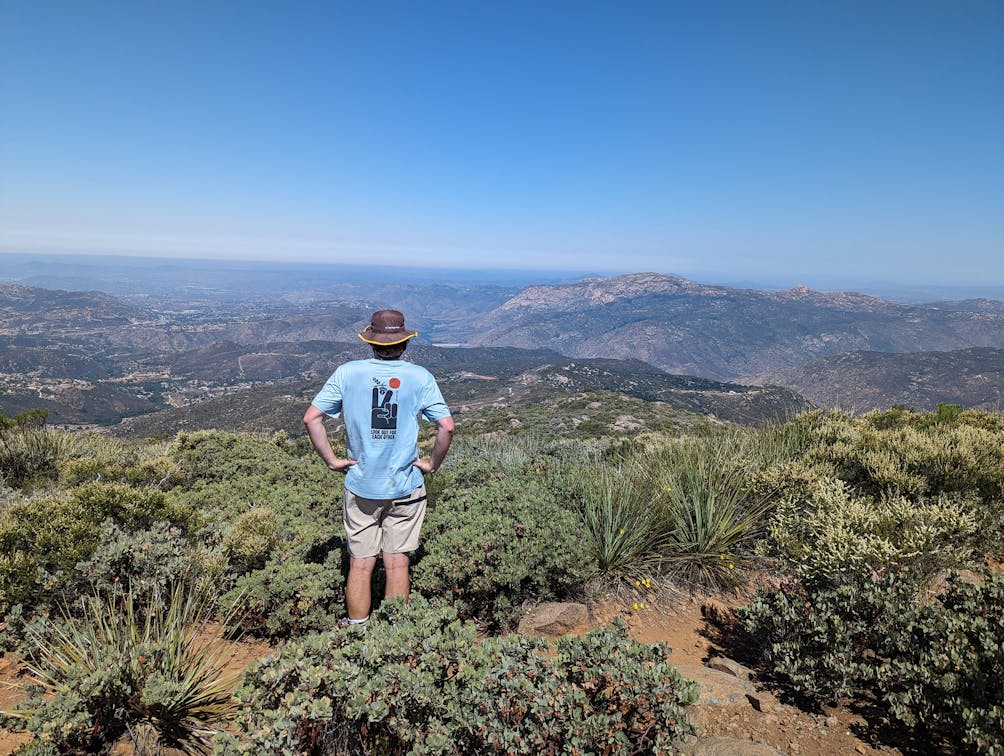 BONUS BEER: Hikes as challenging as Viejas Mountain should follow up with a refreshing reward. Head to the charming town of Alpine, once home to the ever popular Alpine Beer Co., to find a delicious newcomer: McIlhenney Brewing Company, which serves up a huge variety of IPAs for hops lovers (we like Wizards Wand) and a multitude of unique blondes (try Apricot Bells Bluff). Cheers!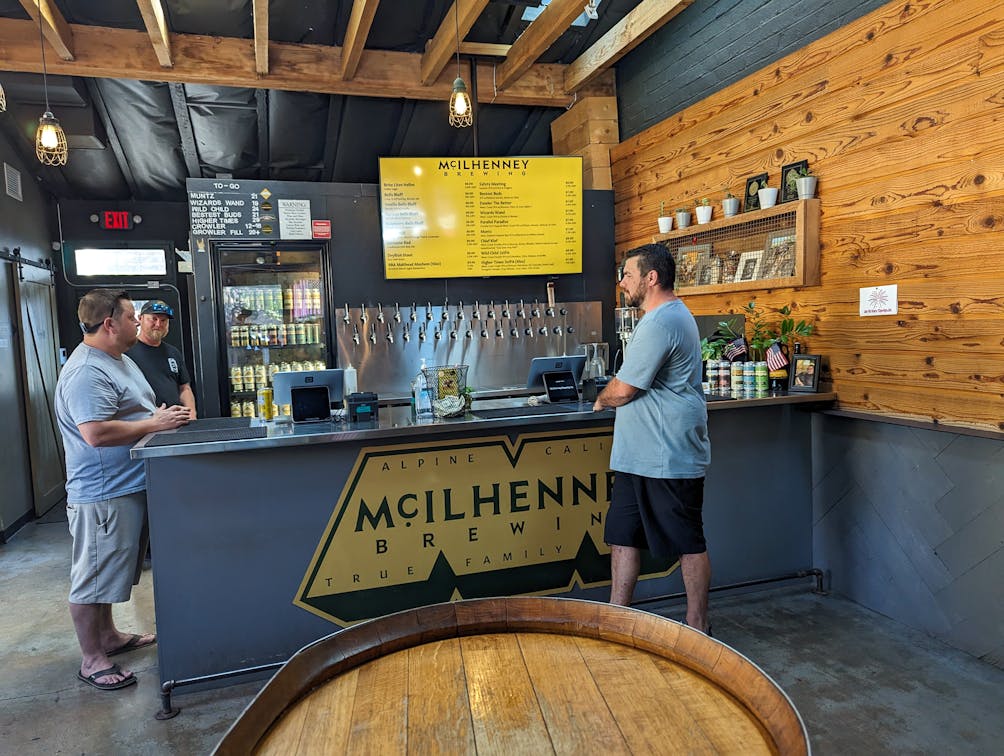 To get to the Viejas Mountain trailhead, take the I-8 to Tavern Rd. and exit south. Turn left onto Alpine Blvd., which meanders east through town for 1.6 miles. Take a left onto East Victoria Dr. and after 1.1 miles, turn right onto Anderson Rd. The trailhead will be on your right after 0.8 mile, shortly after it becomes a dirt road. Adventure Pass Required. Dog-friendly!
Bring the Outdoors to Your Inbox
Sign up for our weekly email and stay up to date on where to explore in California.
* No spam, that's a funky food!