New Trail Alert
New Trail at Palomar Arboretum in San Diego County
Something new to do in 2020: Check out the vastly improved trail at the Edward and Frances Hunter Arboretum on Palomar College's San Marcos campus. Recently opened in late September, the preserve has a spanking-new irrigation system in addition to refurbished trails, which are also ADA accessible.
Though the total trail length is about 1 mile (you will actually log 1.5 or more depending on your "root" of choice), you can easily spend hours among the over 600 arboreal species that represent all major continents.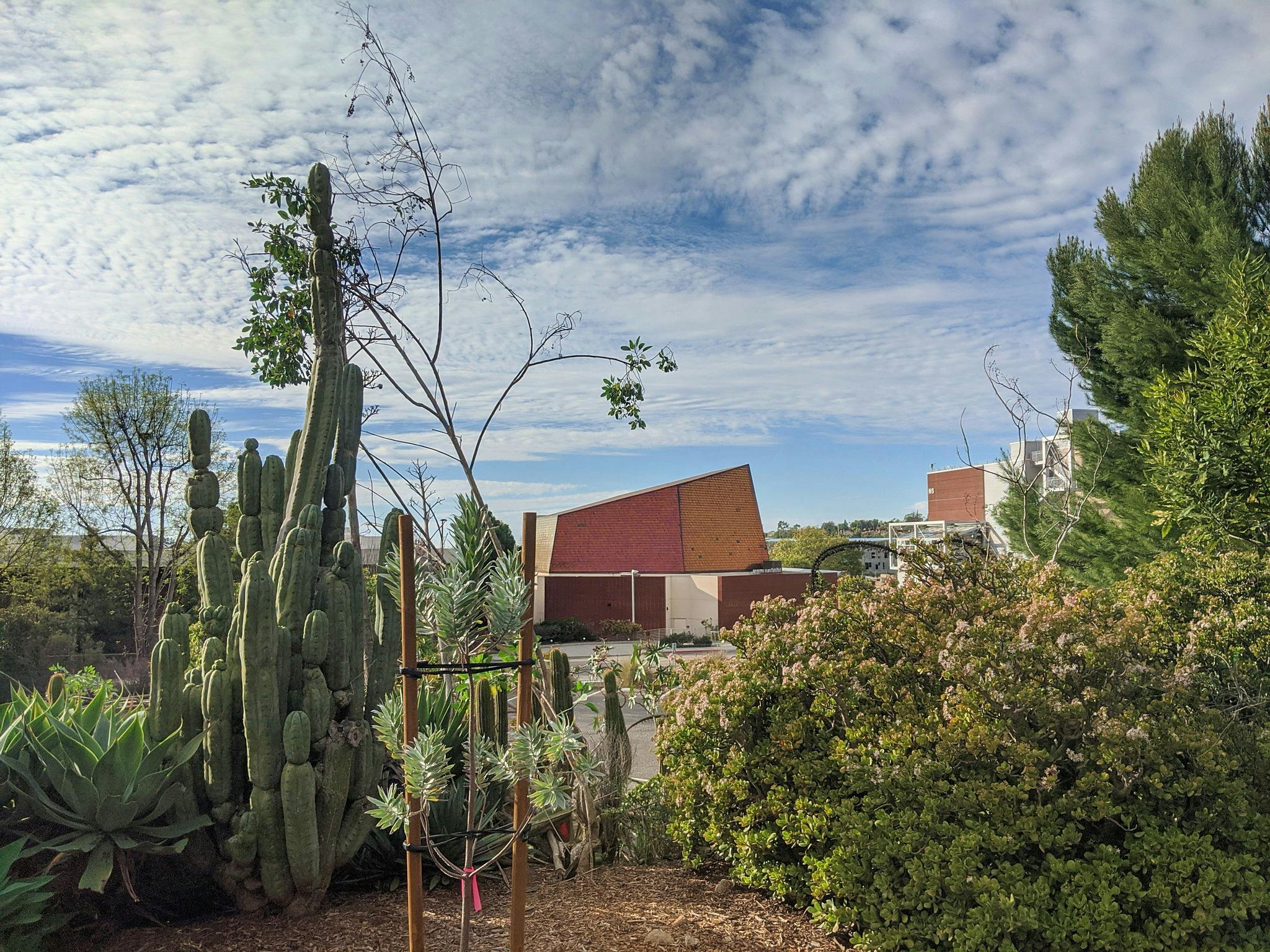 The specimens are labeled and color-coded (yellow for threatened, red for endangered or extinct in the wild) for an enhanced botanical interpretive hiking experience.
Park at the lot ($5 all day, or use ParkMobile to pay per hour) in front of the colorful planetarium (look for the "galaxy garden"), which hosts evening astronomy shows, and head for the path, marked by a plaque-covered rock and a map (take a photo of the many trail branches).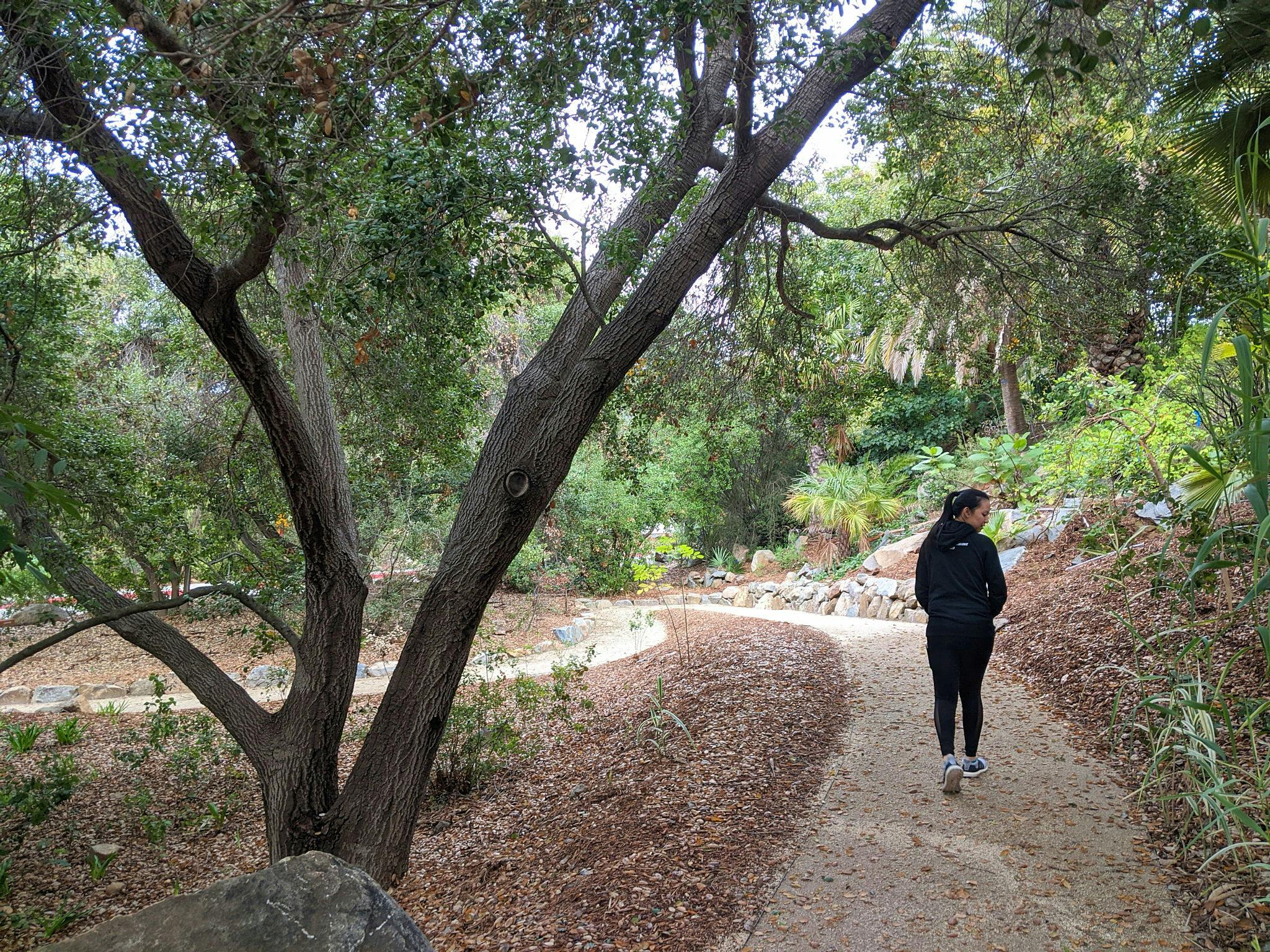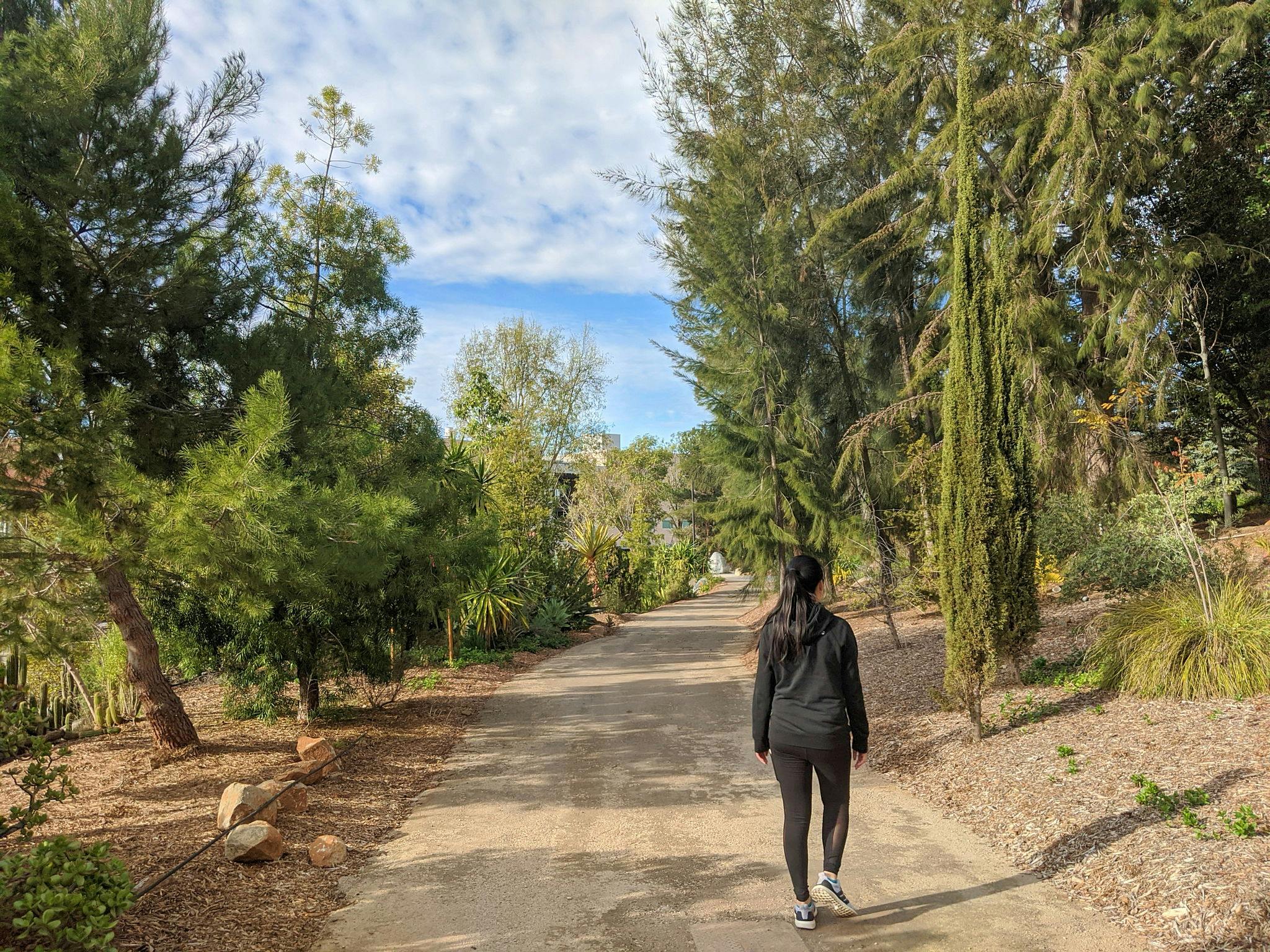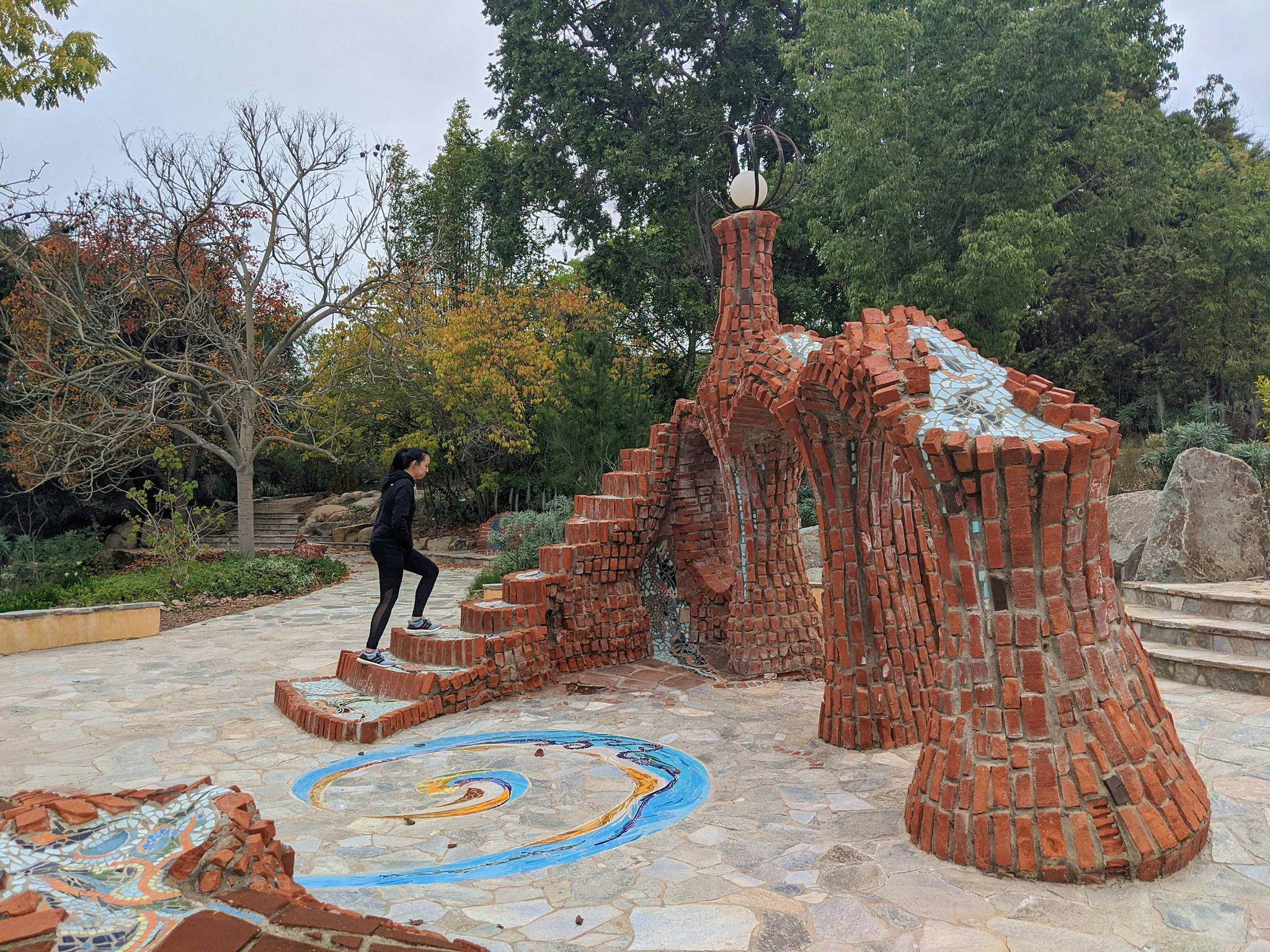 Start at the arched brick sculpture covered in multicolored glass conveniently named New Beginnings (James Hubble), though it was originally constructed in the 1960s. Take the lower left path to first check out the Oak Gulch loop, of which the riparian environment may be the most familiar to Southern California visitors.
After looping back, take the upper left trail heading past another vibrant brick and tile art installation (Life Cycle) toward the Hawaiian gardens section. Here you will find lush palms, bamboo, and a few of your first critically threatened species, including the red-orange flowers of the Oahu riverhemp.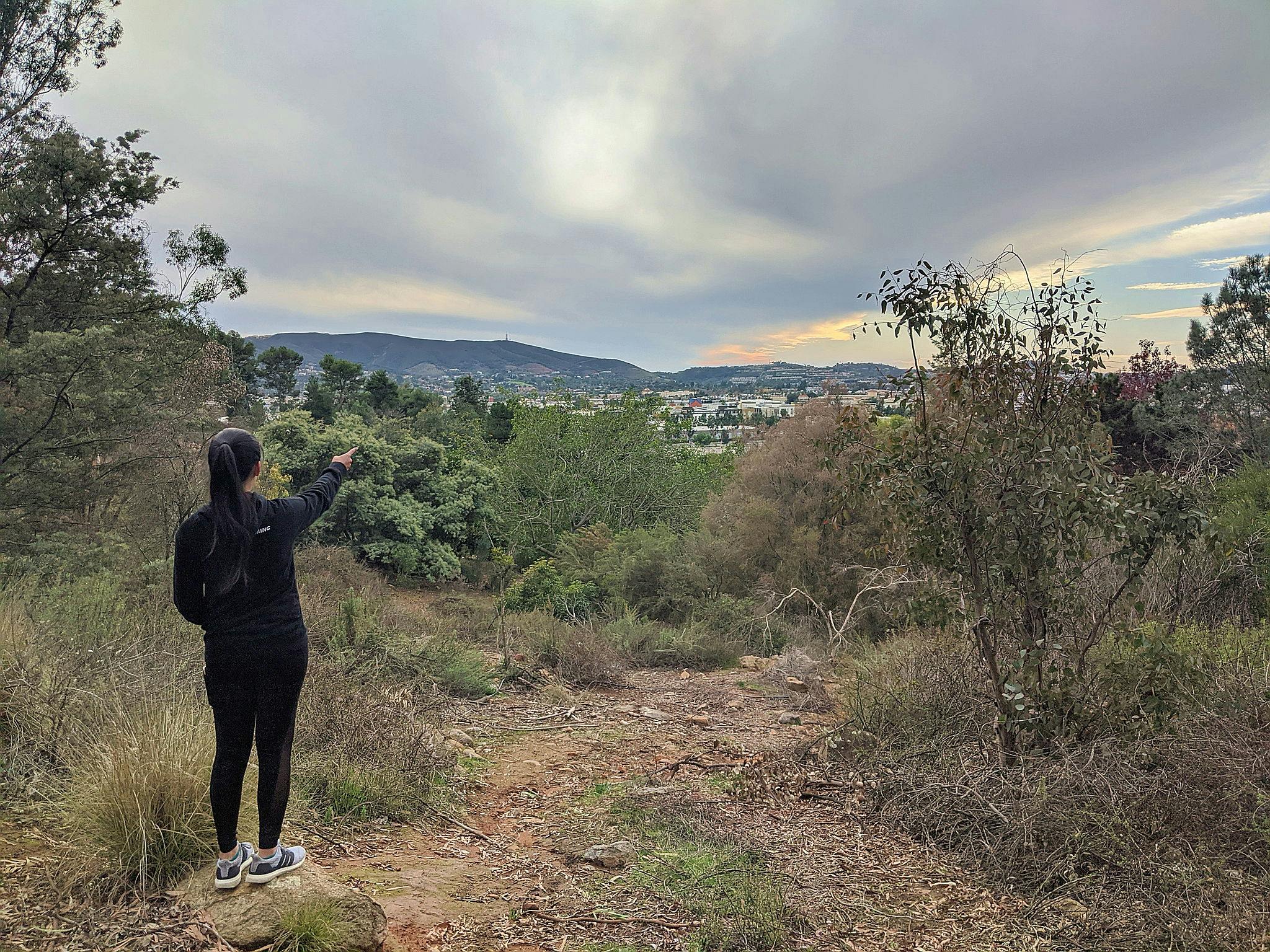 Return to the Hubble sculpture and this time climb up the switchbacks/stairs toward the massive roots of a glorious Moreton Bay fig—grab a seat for prolonged viewing. Then, continue on through an unexpected pine forest to enjoy views over San Marcos to your right, and a meadow trail leading you to a viewpoint of the famous Palomar "P" on a hill to your left.
Head back down the switchbacks and go left to your final stop through Australian and Native gardens. There is an especially large amount of variety here from other parts of the world too—a few Weekend Sherpa favorites include the Queensland bottle tree, ginkgo biloba (maidenhair tree), hoop pine, and Tecate cypress.
To get to the Palomar Arboretum and parking lot, take the I-15 or I-5 to the CA-78. Exit Las Posas Rd. and head north. At the first major street (Mission Rd.), take a right, followed by the first left onto Comet Circle, depositing you on Palomar's campus and leading you to the arboretum and lot.
Bring the Outdoors to Your Inbox
Sign up for our weekly email and stay up to date on where to explore in California.
* No spam, that's a funky food!