Pierce Scribes
Pay Your Repsects to Literary Greats in a tiny LA Memorial Park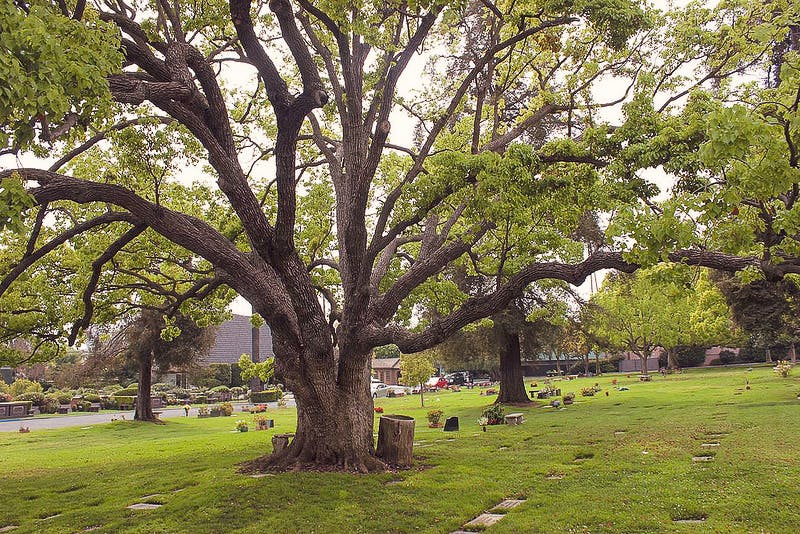 A writer's words can last forever, but where do the writers themselves go to be immortalized? LA's Pierce Brothers Westwood Village Memorial Park is the final resting spot for many great authors (and movie stars). A stroll around the hidden 2.5-acre park lets you pay your respects to lit greats like Ray Bradbury and Truman Capote, and several other beloved contributors to the American arts—Dean Martin, Roy Orbison, Billy Wilder, Walter Matthau, and Jack Lemmon, to name a few.  One of the biggest marquee names here is Marilyn Monroe.  So many fans have kissed the marble on her mausoleums that it's perma-stained in lipstick pink.  Rodney Dangerfield, who penned several movies in his time, has the most memorable inscription on his headstone: "There goes the neighborhood." No respect!
BONUS: Like to talk lit over a glass (or two) of wine? Just 4.5 miles from the memorial park, V Wine Room in West Hollywood (903 Westbourne Dr.), pours selections from boutique California vineyards. This establishment is in the building that housed the original West Hollywood Library. Your bill comes in an old library book.
Pierce Brothers Westwood Village Memorial Park is located at 1218 Glendon Ave. in Los Angeles.
Bring the Outdoors to Your Inbox
Sign up for our weekly email and stay up to date on where to explore in California.
* No spam, that's a funky food!