Secret Stairway Hike
Secret Stairway Hike in Oakland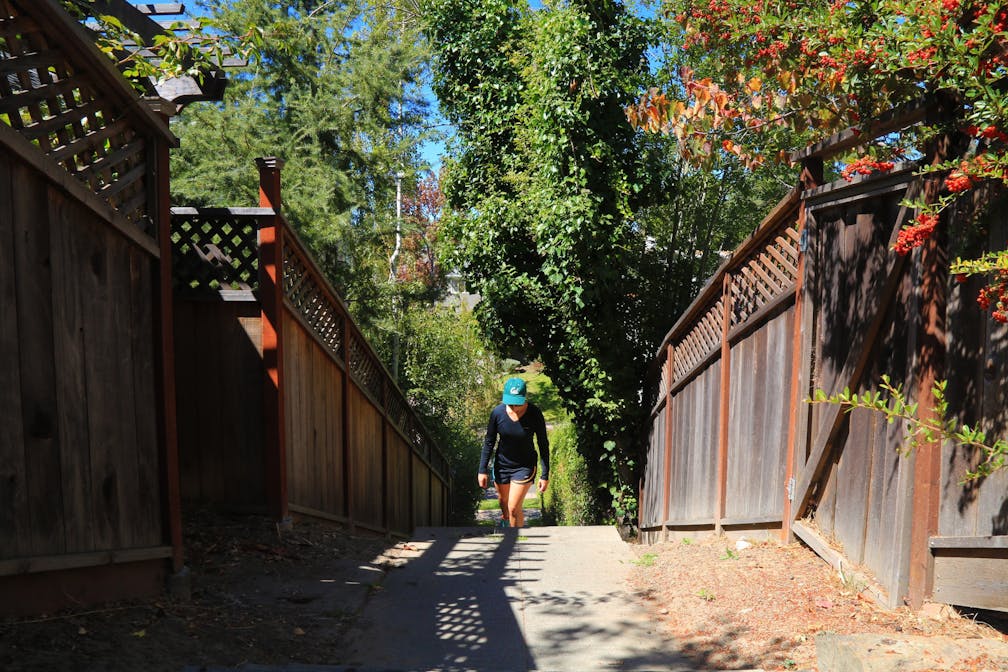 Secret passageways aren't just found in the movies. The East Bay has over 400 of them winding unseen through the hillsides. Explore Oakland's hidden passages on a 6-mile urban loop hike using shortcuts originally built to help an influx of residents reach streetcars post-1906 earthquake. Following a route (detailed directions below) from Jerome and Oakland Avenues, seven staircases and passageways meander through an eclectic mix of hillside homes and neighborhood parks to a thigh-burning hike high—about 300 steps sandwiched between residential houses that climb up and over Walavista Avenue to Mandana Boulevard.
Pass stunning views of a shimmering Lake Merritt and downtown skyline en route to the lake's Bonsai Garden and Wildlife Sanctuary before making your way to the west end.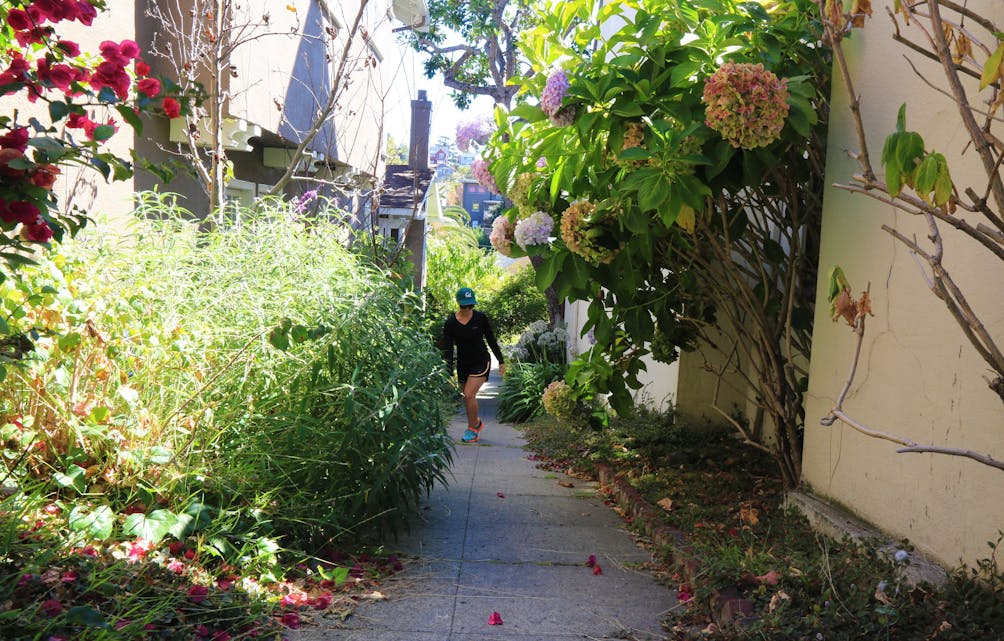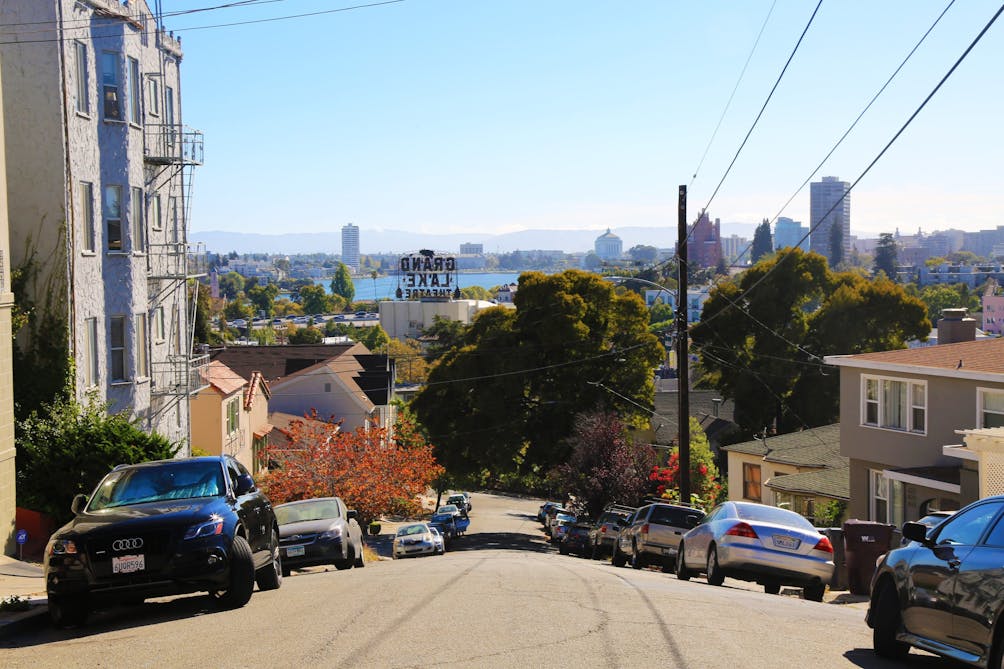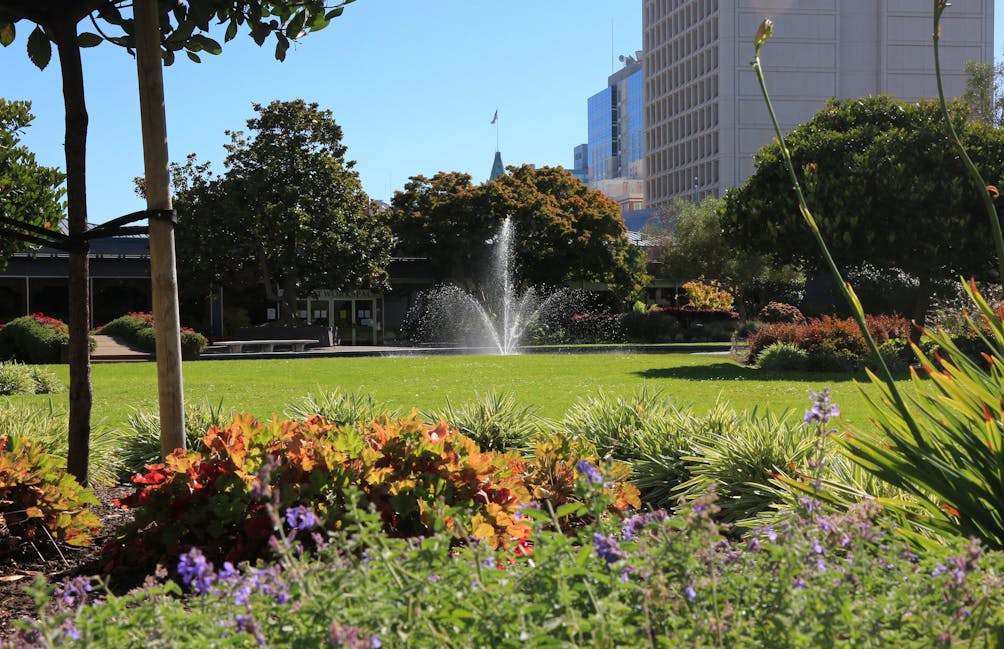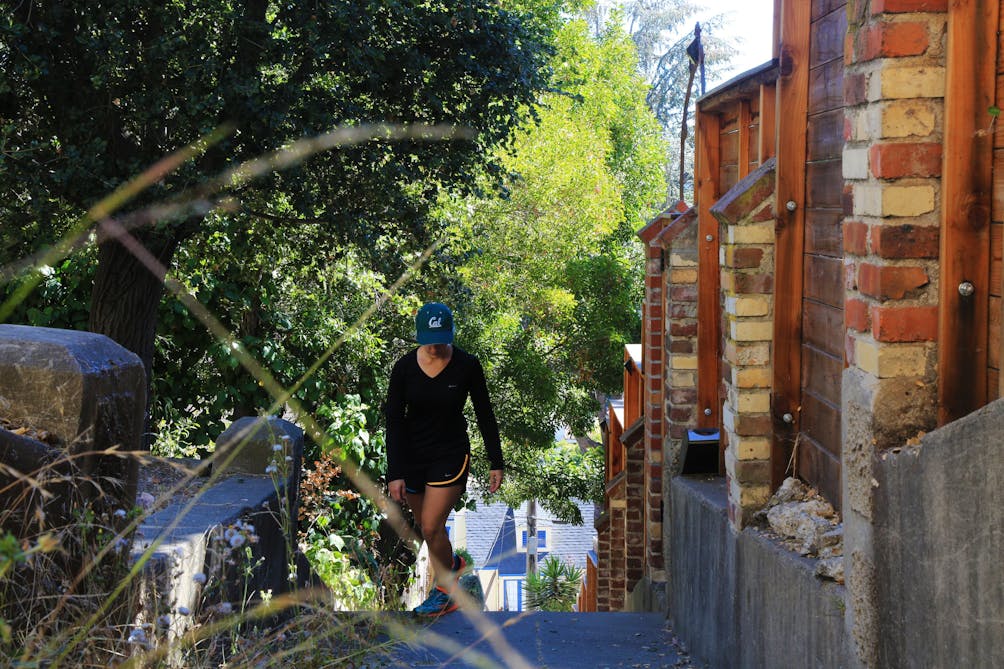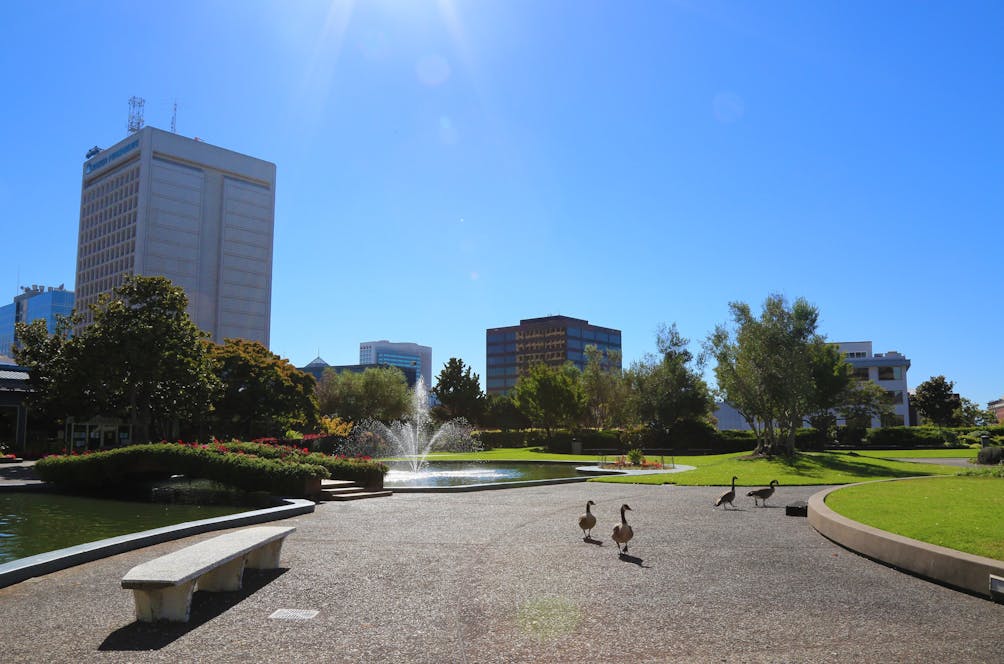 TIP: On weekdays only, the Kaiser Center's little-known rooftop garden can be accessed via the parking garage elevator near 21st and Webster. Atop the building's five-story parking structure you'll find a wooden bridge, 3.5 acres of landscaped lawns, and a large reflective pool with three fountains (skip this part if you're there on a weekend!)
BONUS WINE & CHEESE: Ordinaire—a wine bar and retail shop featuring a unique collection of wines that you've probably never tried—is along the route and well worth a visit. Relax with a glass, and charcuterie made by the acclaimed Chris Lee, former executive chef at Chez Panisse.
Printing a map is highly recommended; secret staircases and passageways are clearly designated and visible on Google Maps but hidden in between residential homes and easy to miss without one. Kaiser Rooftop Garden is free and open Monday through Friday from 9:00 a.m. to 5:00 p.m. Rooftop access is via parking garage elevators on 21st and Webster. Ordinaire open 12:00 noon to 10:00 p.m., seven days a week; closed first Tuesday of every month.
Hike Directions: Park in neighborhoods near Jerome Ave. and Oakland Ave. and begin south on Jerome. Turn right onto Nova Dr. At the traffic circle, turn left onto Arbor Dr. and almost immediately right onto the first hidden stairway down to Magnolia Ave. Turn left, and almost immediately right onto the next pathway to Palm Dr. Continue straight up Wallace Rd. and veer right onto Winsor. Turn left onto Wildwood behind the residential retaining wall. Soon after, turn right between homes onto another stairway down to Ranleigh Way. Turn right and then briefly left onto Annerly before the next passageway, signed Portsmouth Walk, on your right. Emerge on Lakeshore Ave. and turn left, following it as it veers right and intersects Walavista Ave. Turn right onto Walavista. Pass Arimo Ave. and look for the next staircase on your left—the largest of the hike. Two staircases totaling 154 steps cross Balfour Ave. and emerge on Calmar. Turn left. Almost immediately turn right and take 142 steps down to Mandana Blvd., crossing Santa Ray Ave. in the middle. Turn right. Turn left onto Paloma Ave. and take a set of stairs on the right through Oak Grove Park. Emerge back on Mandana Blvd. and follow left for 0.6 mile past Vermont St. to Grand Ave. Especially good views of Lake Merritt can be seen on Vermont. Turn left onto Grand. Ordinaire will be on the left. Continue along Grand to Lake Merritt, turning left onto Bellevue Ave. to circle the lake past the Rotary Nature Center and the Bonsai Garden. Continue to Harrison and turn left. Turn right at the corner of 21st to reach the Kaiser parking garage. Rooftop Garden is accessible via elevators. Turn left back onto Harrison and begin the loop back. Follow Harrison for 0.8 mile before veering right onto Oakland Ave. Follow for 1.2 miles back to Jerome Ave. 
Bring the Outdoors to Your Inbox
Sign up for our weekly email and stay up to date on where to explore in California.
* No spam, that's a funky food!